McDonald's USA Rolls Out the Red Carpet for Winner of 2022 Spotlight Dorado Short Film Contest
Jesus Celaya snags the winning title after being granted a $75,000 production budget to bring his short film 'Lucha Noir' to life.
(CHICAGO Dec. 8, 2022)-- It's a wrap! McDonald's USA proudly announced Jesus Celaya, an emerging Latino filmmaker from southern California, as the grand prize winner of its first-ever Spotlight Dorado short film contest, setting the stage for a bright career ahead with new industry connections and widespread exposure
His Lucha Noir film rose to the top among voters nationwide, following a close rally between finalists Jazmin Aguilar's Kid Ugly and Lorena Russi's A History of Sitting in Waiting Rooms (Or Whatever Longer Title You Prefer).
"Spotlight Dorado underscores the Golden Arches long-standing commitment to uplift and celebrate the Hispanic community through initiatives that fuel Latino pride and representation," said Jeff Martinez, Owner/Operator and McDonald's Hispanic Marketing Committee Franchise Lead. "Through this program, we aim to bolster the careers of up-and-coming Latino creatives; and we're thrilled to offer Jesus a year-long opportunity to work with McDonald's on creative initiatives and campaigns during 2023."
Acclaimed actress, director, producer, representation advocate and program ambassador Stephanie Beatriz made the announcement on behalf of McDonald's on Dec. 7 at a Spotlight Dorado screening at the Academy Museum of Motion Pictures, an institution dedicated to the history, science, and cultural impact of the film industry. Other leading voices for Latino representation in Hollywood were also in attendance, including actress and program mentor Danay Garcia, and actress and entrepreneur, Julissa Calderon.
"Being named the winner of McDonald's first-ever short film contest is an honor and an invaluable stepping stone in my career," said Jesus Celaya, filmmaker and McDonald's Spotlight Dorado winner. "The Golden Arches gave me this once-in-a-lifetime opportunity to bring my story to life, as well as gain new experiences, exposure and connections with several heavy hitters in the film and entertainment industry."
ABOUT THIS YEAR'S GRAND PRIZE WINNER, JESUS CELAYA
Jesus Celaya is a Mexican American writer and director who grew up between Washington State and the border state Sonora, Mexico. He studied film at the Brooks Institute in L.A. and, since then, has won various awards, including a Latinx Fellowship at the 2020 Screenwriters and Directors Labs.
Similar to his multicultural upbringing, Jesus was inspired by classic American comics and Mexico's rich history of lucha libre wrestling culture. Lucha Noir is a noir piece that features a luchador and an otherworldly villain dueling it out in an epic battle driven by classic Luchador films, while exploring the dichotomy between good and evil.
A QUICK LOOK BACK AT THE 2022 PROGRAM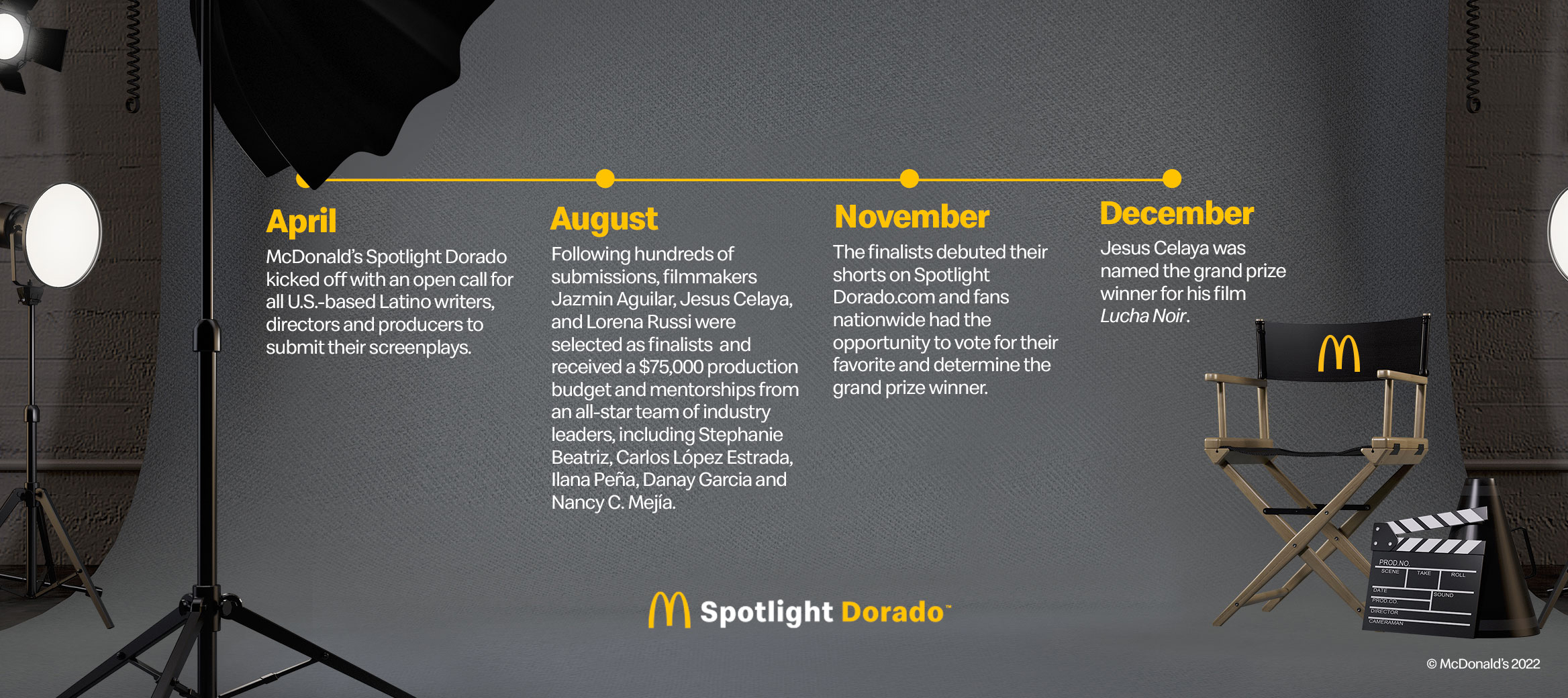 MORE SPOTLIGHT DORADO IN 2023
Next year, McDonald's USA will once again welcome talented filmmakers to the second edition of the Spotlight Dorado short film contest. An exciting new panel of industry partners and experts will be announced in Spring of 2023, along with new opportunities to bring value for talented Latino filmmaking contestants.
While the Spotlight Dorado short film contest is the first initiative under the multi-year platform, efforts are currently in development to recognize and empower Latino talent in other fields. More details are soon to come!
To learn more about Spotlight Dorado, visit spotlightdorado.com.
About McDonald's USA
McDonald's has always been committed to the communities it serves, and the people that make up those communities. Every day the brand takes steps to achieve a more equitable and inclusive future for our employees, Franchisees, suppliers, customers, and the communities we serve and foster.
McDonald's USA, LLC, serves a variety of menu options made with quality ingredients to nearly 25 million customers every day. Ninety-five percent of McDonald's 14,000 U.S. restaurants are independently owned and operated by businessmen and women. Our global aspiration is that no matter where you are in the world, when you interact with McDonald's — through the app, in a restaurant, by watching a commercial, working in an office setting or as a crew member — Diversity, Equity and Inclusion (DEI) are as evident and familiar as the Golden Arches. For more information, visit www.mcdonalds.com, or follow us on Twitter @McDonalds and Facebook. www.facebook.com/mcdonalds.