Jobs, Inclusion & Empowerment
Helping Build Bright Futures Through Education, Training and Accelerating Equity
Diversity, Equity & Inclusion
Guided by our values, we are committed to becoming better allies, better sponsors and better leaders – helping to empower the people and communities we serve.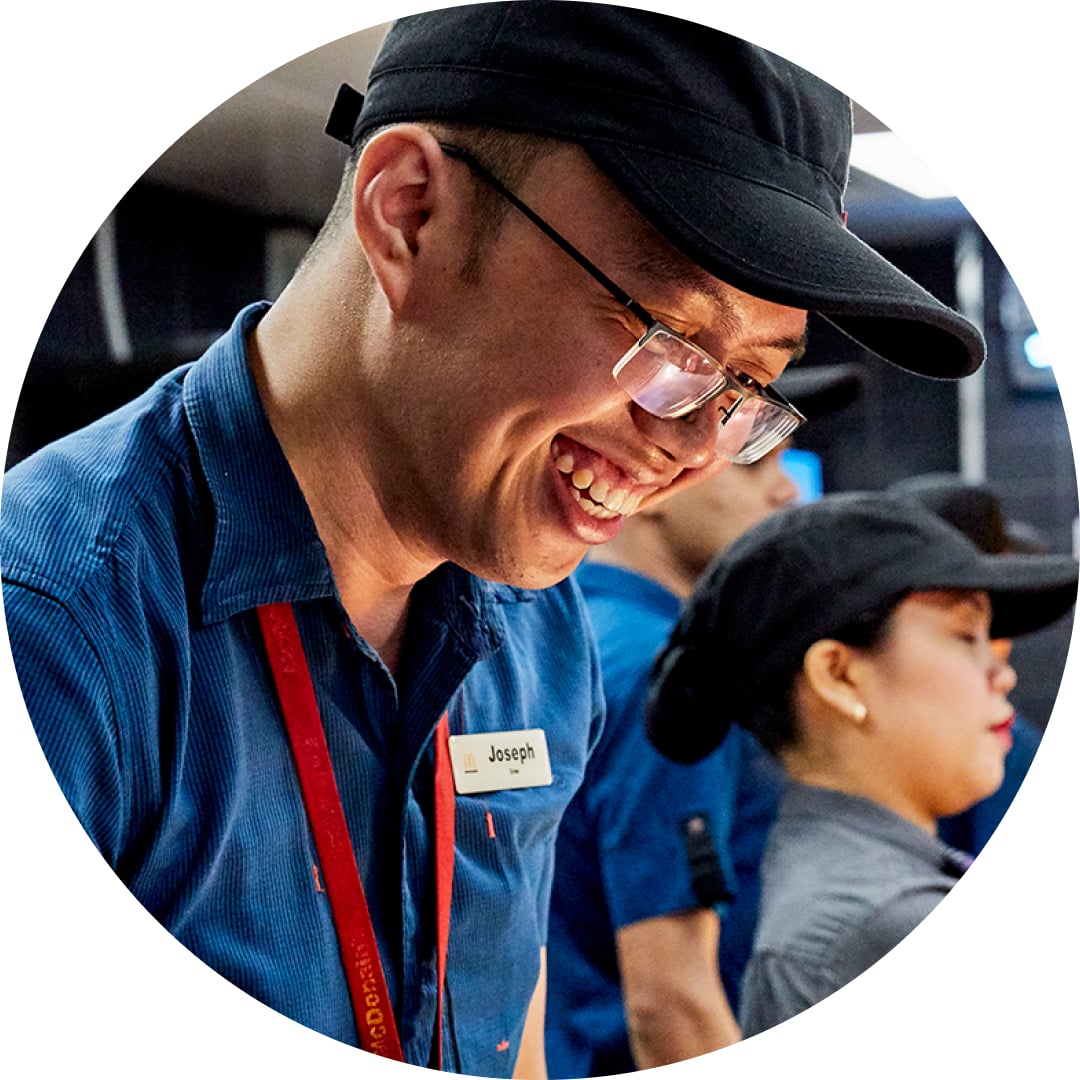 We believe we all have a responsibility to protect the health and safety of employees and anyone who enters a McDonald's-brand restaurant.
Talent & Benefits
Providing a best-in-class employee experience – where people are given opportunities to learn and develop – is a business imperative because it directly impacts the customer experience.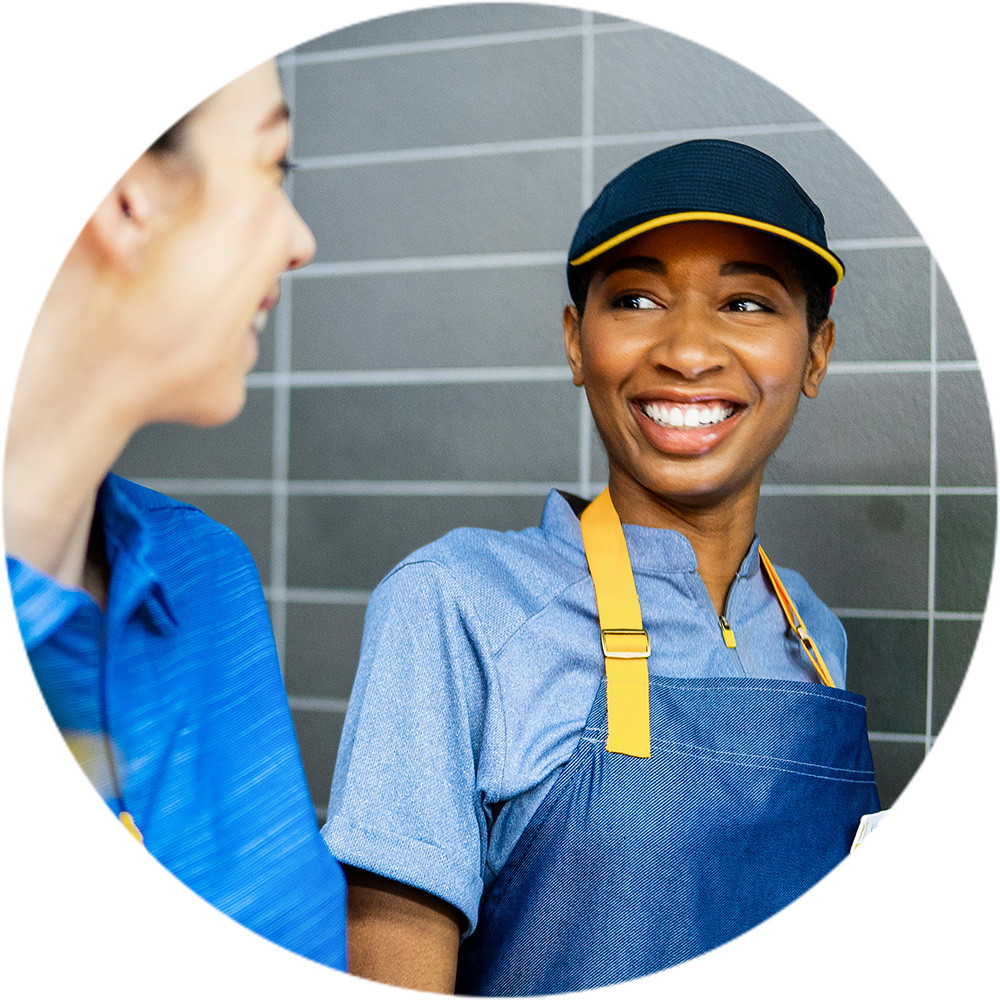 Human Rights
McDonald's purpose is to feed and foster communities. Central to that purpose is respecting human rights wherever we do business.

Living our values means delivering on them every day, in ways that everyone can see. Led by these values, we are committed to fostering workplaces where everyone feels supported, has equitable access to opportunity and feels empowered to realize their full potential through differentiated development opportunities and benefits.
We are committed to actively fostering an inclusive environment, where diversity is embraced as an advantage This is a cultural climate that spans the entire McDonald's System. It builds on the work we've done around the world, recognizes where we can continue to make strides and takes every opportunity to emphasize that inclusion is central to who we are.
We believe that businesses like McDonald's have a responsibility to respect human rights within their sphere of influence. We know we can be a force for good in communities and empower our suppliers to do the same.
We are committed to prioritizing safety in all our offices and Company-owned restaurants around the world, as well as supporting our Franchisees to do the same in the restaurants they own and operate. We are also continuing to foster respectful workplaces, where people can be themselves without fear of harassment, discrimination, retaliation or violence.
Find out how we create community impact where we live and operate across the world. This includes our direct support for families through the Ronald McDonald House Charities®. We regularly engage with stakeholders across our value chain.   
Recent Highlights
Diversity, Equity & Inclusion
Closed the small pay gaps identified in our 2021 pay gap analysis. The 2021 analysis showed we had already substantially attained equal pay for women globally in Company-owned and operated markets (99.85%) and that there was not a pay gap disfavoring underrepresented groups in the U.S.


Incorporated quantitative human capital metrics into our executives' annual incentive compensation in 2021 to hold leadership accountable.


Launched a franchise recruitment initiative to help increase the number of new Franchisees from all backgrounds, including underrepresented groups, with a five-year $250 million commitment in the U.S.


Set goals to increase representation of women globally and  underrepresented groups in the U.S. in leadership roles (Senior Director and above) by 2025.


Achieved our goal of increasing U.S. systemwide spend with diverse-owned suppliers to 25%, reaching 25.4% as of the end of 2021. We invited the U.S.-based suppliers to sign a Mutual Commitment to Diversity, Equity & Inclusion (DEI).
Talent & Benefits
Re-opened in-person learning for Restaurant Staff through Hamburger University (HU) after pivoting to online and on-demand training in 2020.


Developed a System-wide digital education program for restaurant staff, including an innovative Loyalty Simulator gamification experience in the U.S. with an over 3,000% increase in usage, as we continue modernizing the learner experience.


Invested in 4 new leadership development programs for Corporate Staff.
Safe & Respectful Workplaces
Across all markets globally, we added to existing resources and are making the following additional progress:
Developing and localizing policies, along with training for crew and managers, to mitigate and help prevent harassment, discrimination, retaliation and violence in all restaurants. We remain committed to supporting markets and franchised restaurants by providing optional tools and training resources.


Requiring that all restaurants have reporting mechanisms in place to report or raise concerns.


Requiring that every restaurant complete an employee feedback survey at least once annually.



Deploying certain health and safety requirements and a market-level assessment process to evaluate these requirements.
Related News
Reporting Across Our Purpose & Impact Web Pages
This section of our website – Our Purpose & Impact – is a living report where we share our approach to, and progress against, our priority ESG issues. Our goals and performance work in tandem to drive transformation across our four Impact Areas – the topics we know matter most to our stakeholders – helping us stay accountable for realizing our purpose and driving meaningful impact. Within these Impact Areas we have established strategies, goals, policies and performance indicators to manage our performance. 
Relevant Reports and Summaries
See All Current and Past Reports
Related Issues
Additional issues across our four pillars include:
More in Our Purpose & Impact