I won a $100,000 McDonald's HACER® National Scholarship this year
Vlad R. | HACER National Scholarship Winner | California, USA
Meet Vladimir R., one of the 2020 HACER® National Scholarship winners who was awarded $100,000 to pursue his dreams. 
Tell us about yourself.  
I was born and raised in California with my three younger siblings. My family immigrated from Oaxaca, Mexico and both of my parents worked as field workers, more specifically strawberry pickers, to raise us. English is my second language; I became fluent midway through elementary school. I love sports – I ran cross country and track all four years of high school – and I'm passionate about volunteering. After college, I want to create positive change and help improve the world, especially if it means starting in my own community.
Do you remember when you first heard about the HACER National Scholarship? 
I actually saw a commercial for the HACER National Scholarship on TV. I watched a lot of TV on weekends growing up for fun growing up because we did not have Wi-Fi. 
At the time, I didn't know I was going to eventually apply for the scholarship. But once I knew I wanted to go to college – and I understood how expensive it could be – I became determined to win scholarships and take the financial pressure off my parents. 
Why'd you apply for the HACER National Scholarship? 
One of my friends applied for the HACER National Scholarship during our senior year and he recommended that I apply too. I always looked up to him because he put a lot of effort into completing scholarship applications in high school – I know a lot of people do, but he took it to the next level. I was inspired by his hard work, so I applied too. Once I found out I became a semi-finalist for the scholarship, my excitement about the possibility of winning really grew.  
How'd you find out you won? 
The morning I found out, I'd woken up early with my younger sister – she'd insisted that I make her breakfast. I knew the HACER National Scholarship winners were going to be announced soon, but I didn't know when. Before I made her breakfast, I checked my email – and there was an email from McDonald's. I couldn't believe my eyes – I zoned out for a bit after reading it, thinking I was hallucinating. When it finally hit me that I'd won a $100,000 scholarship, I screamed. I was so excited! My sister, on the other hand, reminded me she was hungry and still needed breakfast – and told me to be quiet so I didn't wake up my parents.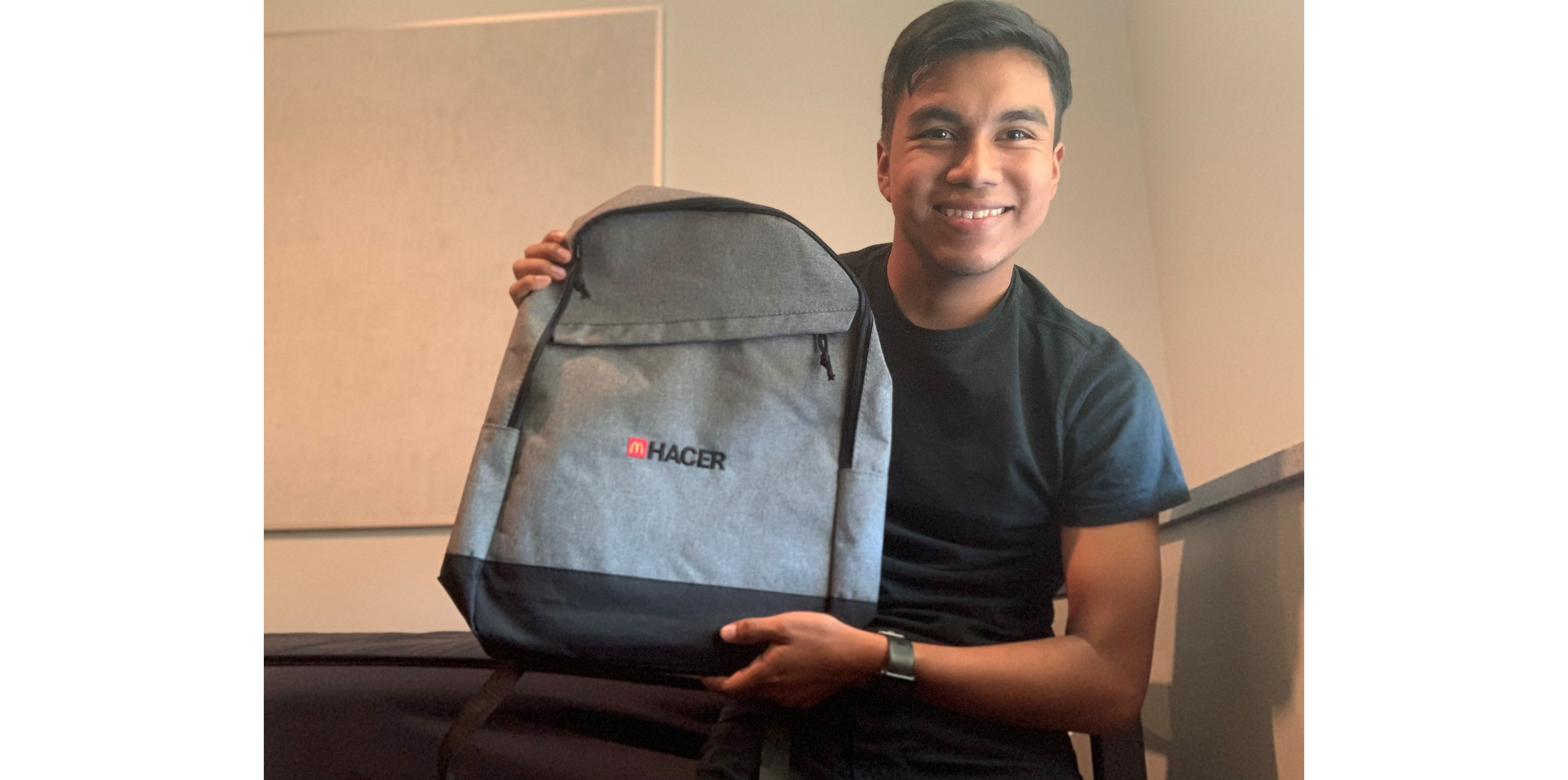 How's college so far? 
It's going well. Most of my classes are online right now due to COVID-19, but I'm living in the dorm, so I feel like a real freshman. I am majoring in mechanical engineering at a public university in California– I actually used to hate math, but really developed a love for it as I got older. Once the pandemic is over, I'm looking forward to joining clubs and volunteering. I'm hoping to make the most of my college experience. 
Hispanic college-bound high school seniors and their parents are encouraged to visit mcdonalds.com/hacer for additional college resources in English and Spanish and for details on how to apply for the McDonald's HACER® National Scholarship. The scholarship application period for the next academic year is open now and runs through February 3, 2021.