MyMcDonald's Rewards Arrives in Germany
We've hit another milestone on our global digital journey: Our loyalty program, MyMcDonald's Rewards, has officially arrived in more than 1,000 restaurants across Germany. Now, customers throughout the country can earn points every single time they order from McDonald's, whether they order through the mobile app, in the Drive Thru, at the front counter or at a kiosk.
The launch of MyMcDonald's Rewards in Germany is an example of how we're Accelerating the Arches around the world. It's also the next step on the digital journey for McDonald's Germany, which began in 2015 when new digital elements like kiosks and digital menu boards were introduced in restaurants. The journey continued in 2018 with the launch of the global mobile app. Over the years, McDonald's guests in Germany have become accustomed to interacting with McDonald's digitally, according to McDonald's Germany Chief Marketing Officer Susan Schramm – and with 7 million active app users across the country, we're excited to build on this foundation and introduce MyMcDonald's Rewards.
More than 2 million customers in Germany have enrolled in MyMcDonald's Rewards since it launched nationwide on September 1 – and it's safe to say they love it. Customers have told us our loyalty program is easy to use and understand, and the rewards we've selected are exactly what they want. Meeting our customers' expectations in every market is important to us, and we did extensive research to ensure the MyMcDonald's Rewards program in Germany is tailored to our customers there. In offering German customers the rewards they want, we can positively influence the customer experience so that every single visit to McDonald's is more fun.
Here's something else you may not have realized, according to McDonald's Germany's Director of Digital Marketing, Julian Griessl: Germans are known for their love of collecting, whether they're collecting airline miles, rewards points, trinkets or garden gnomes. That's one of the reasons we believe they'll love MyMcDonald's Rewards – the more points they save up, the bigger the menu items they can redeem.
Take a look at the delicious menu items German customers can now redeem with their reward points: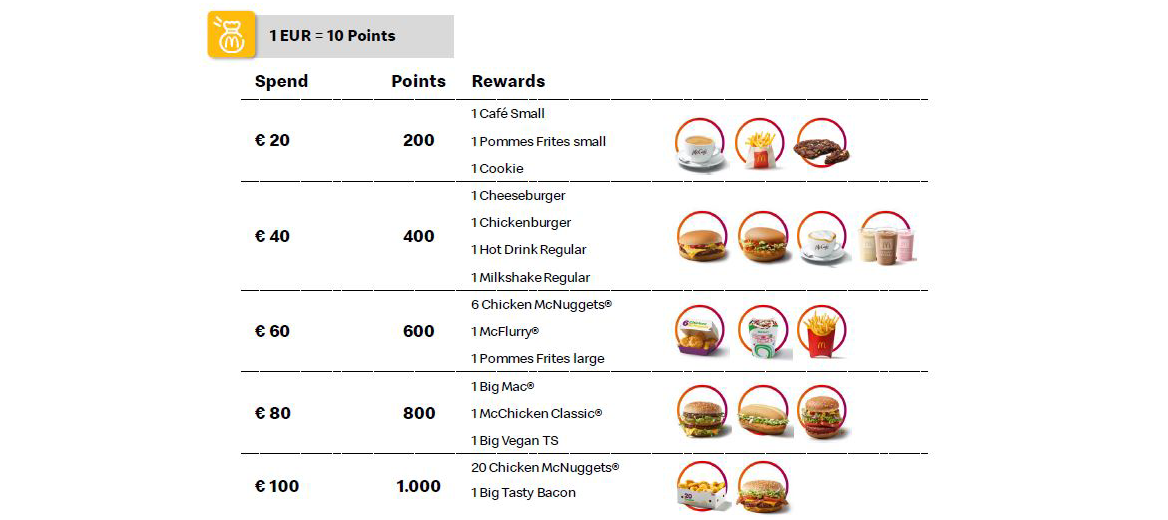 Looks great, right? Susan and Julian have said the MyMcDonald's Rewards program in Germany is the result of teamwork across all of McDonald's, and they couldn't be more excited to share it with our German franchisees, restaurant workers and employees, as well as customers.
Going forward, there's no doubt that we will be able to deliver exceptional guest experiences in Germany with MyMcDonald's Rewards. If you're in Germany, it's time to start earning those points!