Customer focus increases sales
Q2 2021 Highlights
Comp sales increased across all segments on a 2-year basis
+40.5%
Year Global Comp Sales Increase
+25.9%
U.S. Comp Sales Increase
+75.1%
IOM Comp Sales Increase
+6.9%
Global Comp Sales Increase
+14.9%
U.S. Comp Sales Increase
+2.6%
IOM Comp Sales Increase
~$8B
Year-to-Date Digital Systemwide Sales Across Our Top 6 Markets
MyMcDonald's Rewards in the U.S. is here – and loyalty is expanding globally
In July, U.S. loyalty program MyMcDonald's Rewards joined other loyalty programs around the world. We already have over 22 million active MyMcDonald's app users, and over 12 million enrolled in MyMcDonald's Rewards. Loyalty is a great example of how our core menu and personalized marketing come together through digital channels to build a stronger relationship with our customers. We're proud of the success of MyMcDonald's Rewards in the U.S., and we are moving aggressively to bring MyMcDonald's Rewards to our top six markets globally.
The BTS Meal showcased the M, C, and D pillars of our growth strategy in action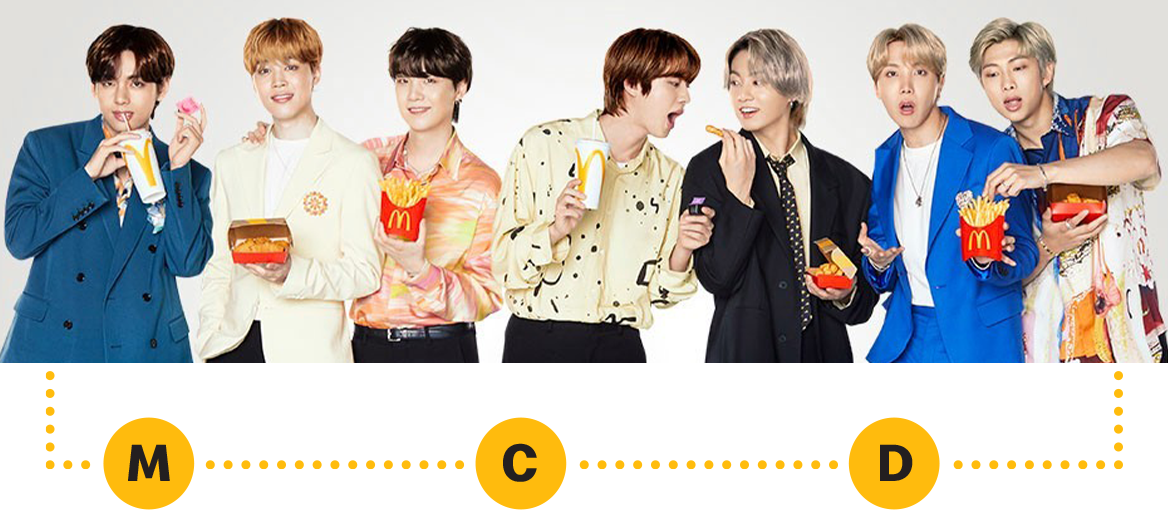 Marketing
Our ambitious marketing campaign spoke to a new generation of customers in 50 markets and achieved record-breaking social engagement leading McDonald's to trend on Twitter at #1 in the U.S. and #2 worldwide.
Core
The BTS Meal drove visits to our restaurants and significant lifts in Chicken McNuggets sales — one of our core menu items.
Digital
The BTS Meal leveraged our digital footprint to engage with customers on the channels most convenient for them.
For 65 years, we've created iconic experiences for billions of people around the world. Along the way, we've always focused on following our customers' needs, finding the most convenient and engaging ways for them to enjoy McDonald's. It's clear that our next chapter will be driven by our leadership in digital.

– CHRIS KEMPCZINSKI
McDonald's President and Chief Executive Officer