McDonald's Presents... the As Featured In Meal
Beginning August 14, the Golden Arches will drop a new global meal in more than 100 countries, starring menu items famously featured in pop culture
(CHICAGO – Aug. 9, 2023) – From classic films and binge-worthy comedies to hit songs and anime series, McDonald's has been famously featured in entertainment for decades. Now, we're giving fans a front-row seat to a new experience, headlined by some of their most beloved menu items. Introducing the As Featured In Meal, a collection of fan-favorite menu items that have made iconic appearances throughout film, television and music. Starting August 14, the meal will be available in more than 100 countries across the globe and will co-star exclusive merch and never-before-seen content.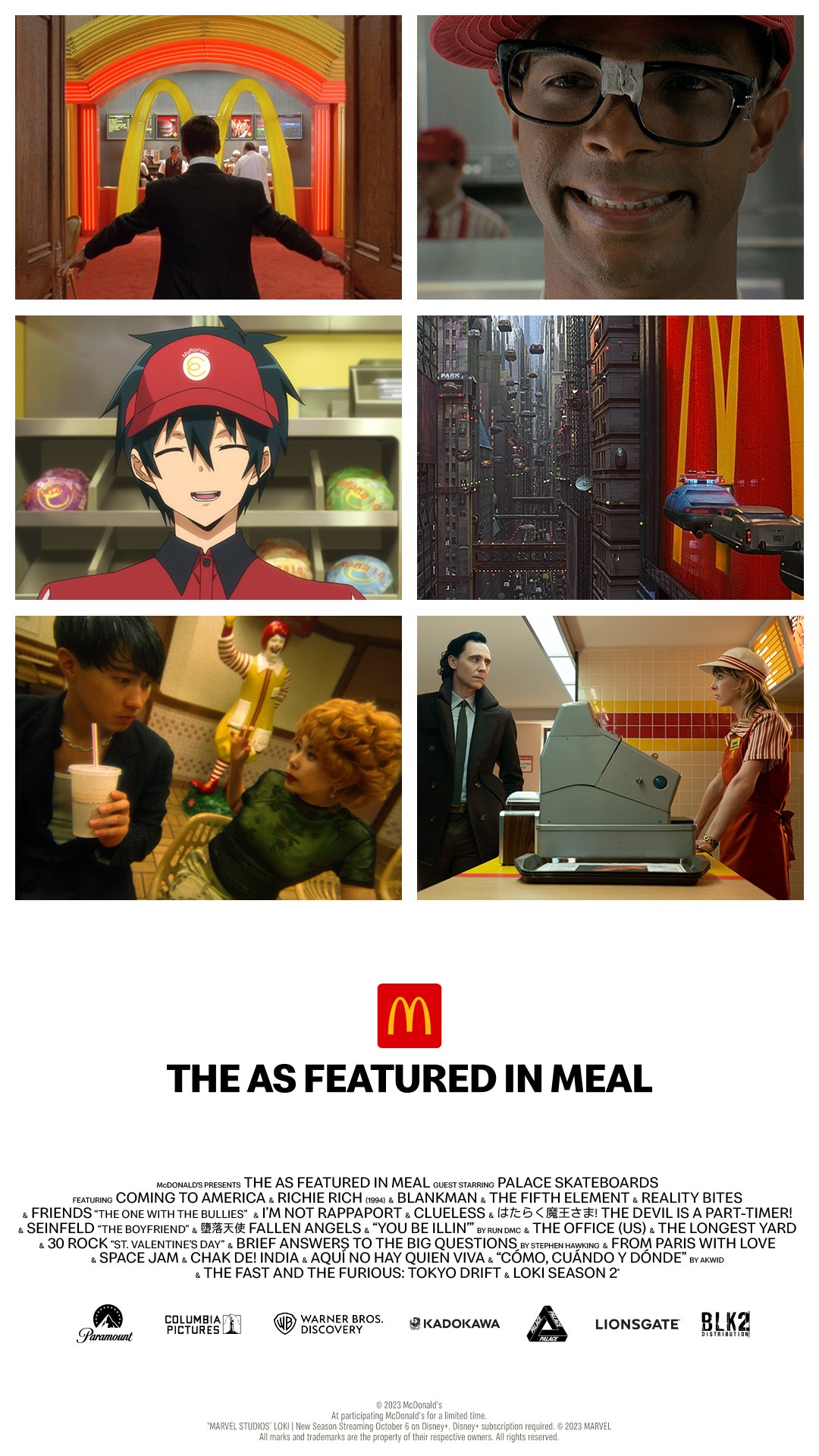 For a limited time, fans can relive the magic of their favorite characters and artists with one of three main menu items and sides – all famously featured. The meal varies globally but will include a choice of 10-piece Chicken McNuggets, Quarter Pounder with Cheese or Big Mac Sandwich along with Medium World Famous Fries, the newly-branded Sweet 'N Sour Sauce – inspired by Marvel Studios' "Loki" Season 2, streaming October 6 on Disney+ – and a Medium soft drink.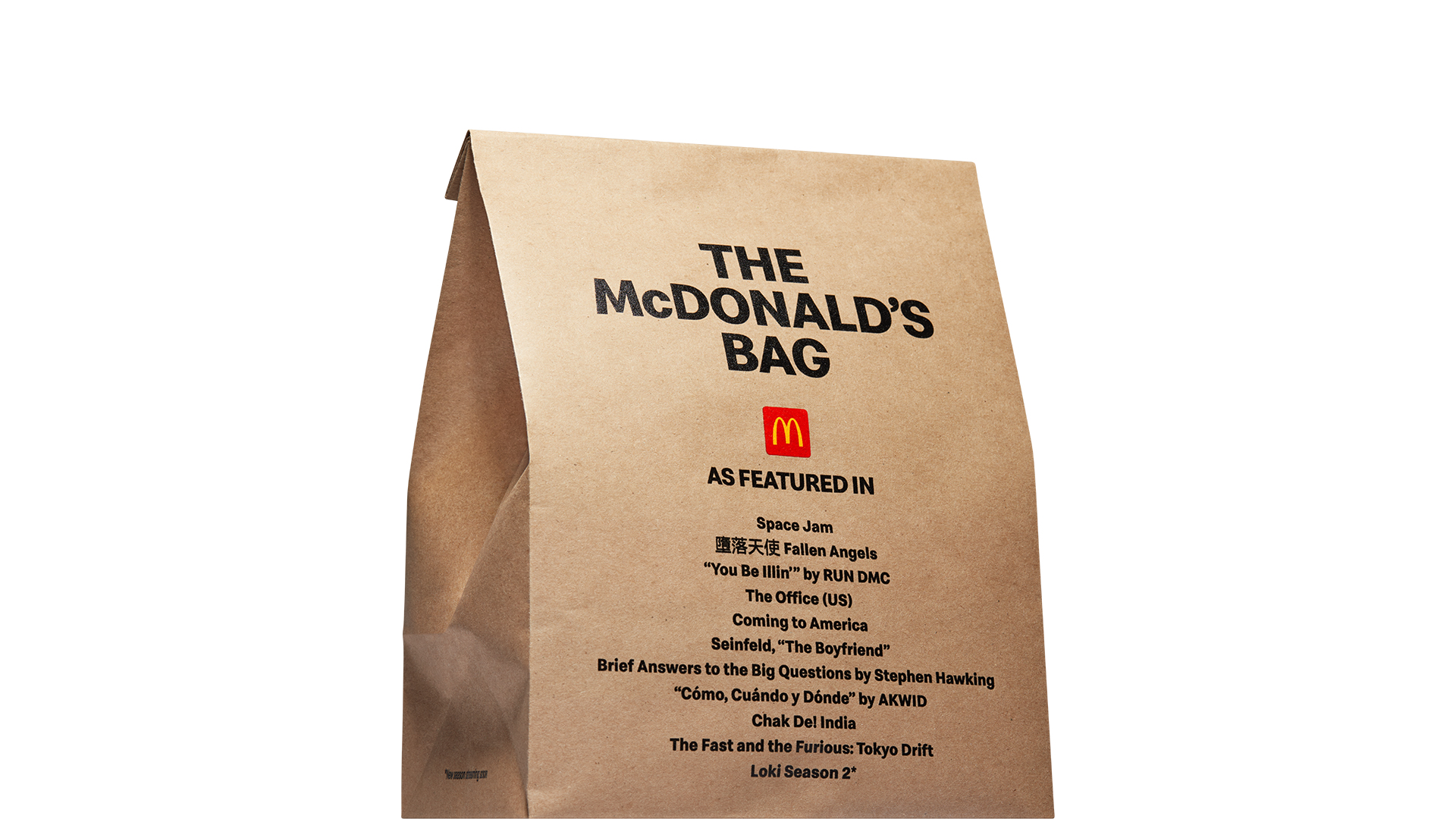 "It's not only our real-life fans who have a go-to order, for decades our favorite movie and TV characters have, too," said Morgan Flatley, Global Chief Marketing Officer and Head of New Business Ventures at McDonald's. "The As Featured In Meal is our biggest Famous Order yet, celebrating the most memorable McDonald's references across the world of entertainment."
And of course, we want fans to feel just as fresh and famous as their McDonald's meal. That's why we're partnering with PALACE – London-based skate and street wear brand that has featured McDonald's across its disruptive, witty designs and skate videos – to create custom merch. Fans who purchase the As Featured In Meal can scan the code on the packaging to access the exclusive PALACE McDONALD'S merch line.
With McDonald's having a special role in Marvel Studios' upcoming "Loki" Season 2, we're giving fans a sneak peek via a themed AR experience on Snapchat. When fans scan the newly branded Sweet N' Sour Sauce lid on Snapchat, they will unlock custom content developed by Marvel Studios exclusively for McDonald's fans, with new content available weekly throughout the promotion.  
Whether you enjoyed watching George Costanza's date proclaim, "I haven't had a Big Mac® in a long time," on "Seinfeld" from Warner Bros. Discovery, are "exceedingly fond of McNuggets of chicken" like in the film "I'm Not Rappaport" from Universal Pictures, or a preview of the upcoming season of Marvel Studios' "Loki," you can get a front-row seat to the As Featured In Meal this summer. Get it on the McDonald's App, in-restaurant and via the Drive Thru at participating restaurants around the globe, while supplies last.
About McDonald's
McDonald's is the world's leading global foodservice retailer with over 40,000 locations in over 100 countries. Approximately 95% of McDonald's restaurants worldwide are owned and operated by independent local business owners.     
All marks and trademarks are the property of their respective owners. All rights reserved.