Roses are Red, Violets are Blue, the Cardi B & Offset Meal is Coming to a McDonald's Near You
Fans can share the love with the first celebrity duo meal hitting restaurants this Valentine's Day, for a limited time
(CHICAGO – Feb. 13, 2023) – While it might not be an official love language, our fans know a true sign of love is knowing your person's go-to McDonald's order – from memorizing how your bestie takes their McCafe coffee to knowing your bae's McDelivery meal by heart. And no matter what's in the order, it always tastes a little better when enjoyed together...
So in honor of the season of love, we're serving up the first-ever celebrity duo meal with lifelong McDonald's fans – Cardi B and Offset – that's perfect for sharing with your plus one, your situationship, your best friend, or anyone in between. Starting Feb. 14, fans can pull up to participating restaurants nationwide* to get the Cardi B & Offset Meal, which includes each of their go-to menu items plus their favorites to split on date night:  
Cardi B's classic McDonald's Cheeseburger, paired with tangy BBQ sauce and a Large Coca-Cola®;
Offset's Quarter Pounder® with Cheese and a Large Hi-C® Orange Lavaburst®;
And to share... a Large order of World Famous Fries® and a hot, flakey Apple Pie.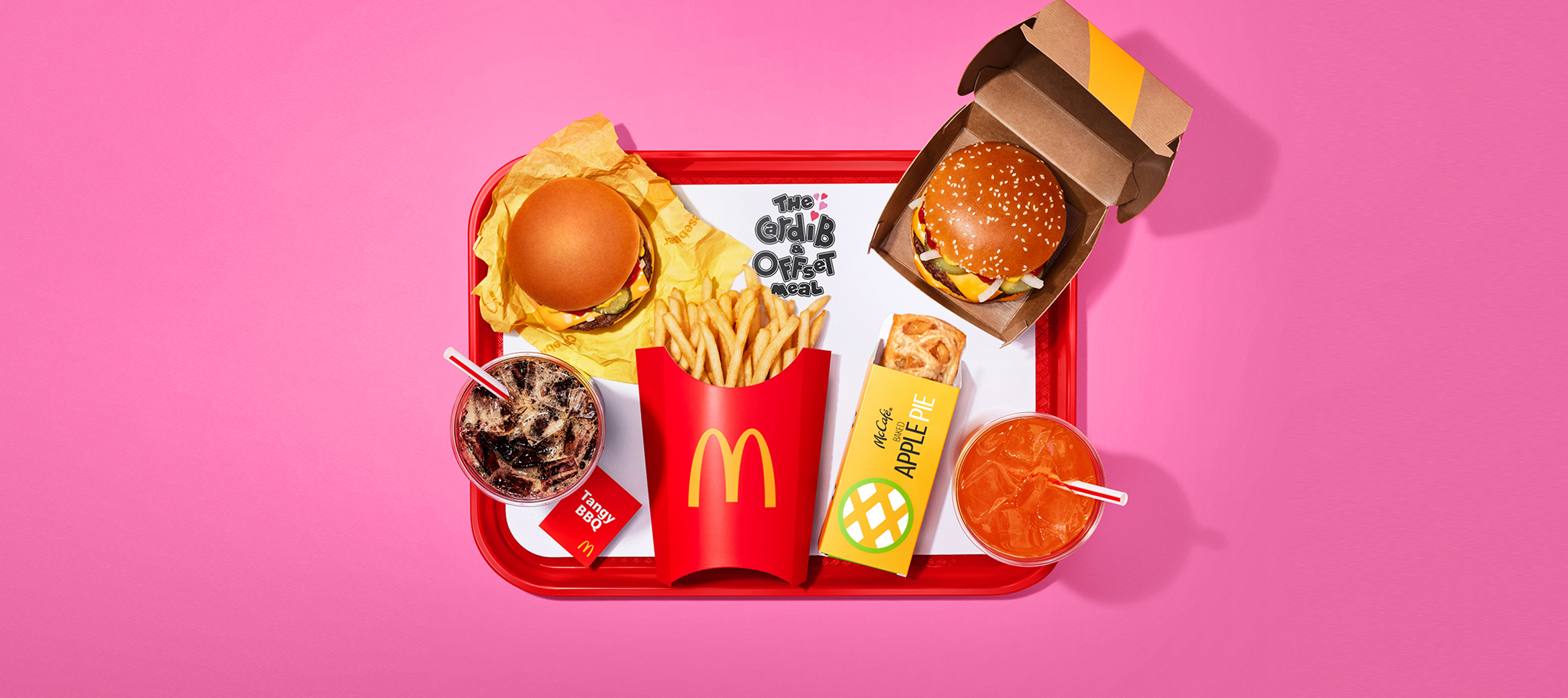 "Let me tell you, McDonald's is date night done right," says Offset. "It doesn't have to be all boujee. Get your date, grab some good food, and have fun, that's it." 
Our fans have been putting out meet-cute vibes with that special someone at McDonald's for years... from Drive Thru dates and Valentine's celebrations, to engagement photoshoots and even weddings. Fans have even popped the question to THE one over their go-to McDonald's meals.
"Whether it's going for a date night or grabbing a bite after late-night studio sessions… I'm always asking Offset to take me to McDonald's," says Cardi B. "And now, Offset and I have a meal named after us! I want all my fans to try it – especially with that BBQ sauce."
The Cardi B & Offset Meal items will be served in fun packaging inspired by the season of love that features a throwback Valentine's Day card that will have fans asking to share a meal with their special someone.
So, will you share this meal with us? Experience dating made delicious when you share the love of a Cardi B & Offset Meal, beginning this Valentine's Day.
*The Cardi B and Offset Meal is available at participating restaurants nationwide via the McDonald's App, drive-thru, McDelivery or in-restaurant. McDelivery available at participating McDonald's. Prices may be higher than at restaurants. Delivery/other fees may apply. 
About McDonald's USA   
McDonald's USA, LLC, serves a variety of menu options made with quality ingredients to millions of customers every day. Ninety-five percent of McDonald's approximately 13,500 U.S. restaurants are owned and operated by independent business owners. For more information, visit www.mcdonalds.com, or follow us on Twitter @McDonalds and on Facebook at www.facebook.com/mcdonalds.