McDonald's USA Hosts Mentorship Session with Former Crew Member Turned Astronaut, Katya Echazarreta
Hispanic college-bound students nationwide can visit hacertour.com/register to sign up for the free virtual session.
(CHICAGO – Jan. 18, 2023)–High school seniors, prepare for takeoff. With the application period for the McDonald's HACER® National Scholarship open for a few more weeks, there's still time to explore the limitless possibilities of a college education with the help of astronaut Katya Echazarreta. The McDonald's crew alum is hosting a virtual mentorship session on Tuesday, January 24 at 1:00 p.m. EST to inspire Hispanic students nationwide and instill in them the confidence that college is within reach.

"After meeting with students face to face at local high schools across the country, I'm excited to connect with even more students virtually to let them know that their dreams of getting an education can be achieved," said Katya Echazarreta, Electrical Engineer, STEM Content Creator, and first Mexican-born woman to go to space. "With resources available to them like the HACER® scholarship, I encourage high school seniors nationwide to join me on January 24, so I can show them that if I could do it, they can too!"
During the session, Katya will share insights on how her perseverance and passion for learning helped shape her journey toward becoming a NASA electrical engineer as a first-generation college student. Students will be able to interact with Katya through a live chat. To participate, students everywhere can register by visiting hacertour.com/register.
The scholarship application period for the 2022-2023 academic year is open through Feb. 6, 2023. Hispanic college-bound students and their parents are encouraged to visit mcdonalds.com/hacer for additional college resources in English and Spanish and details on how to apply for the McDonald's HACER® National Scholarship.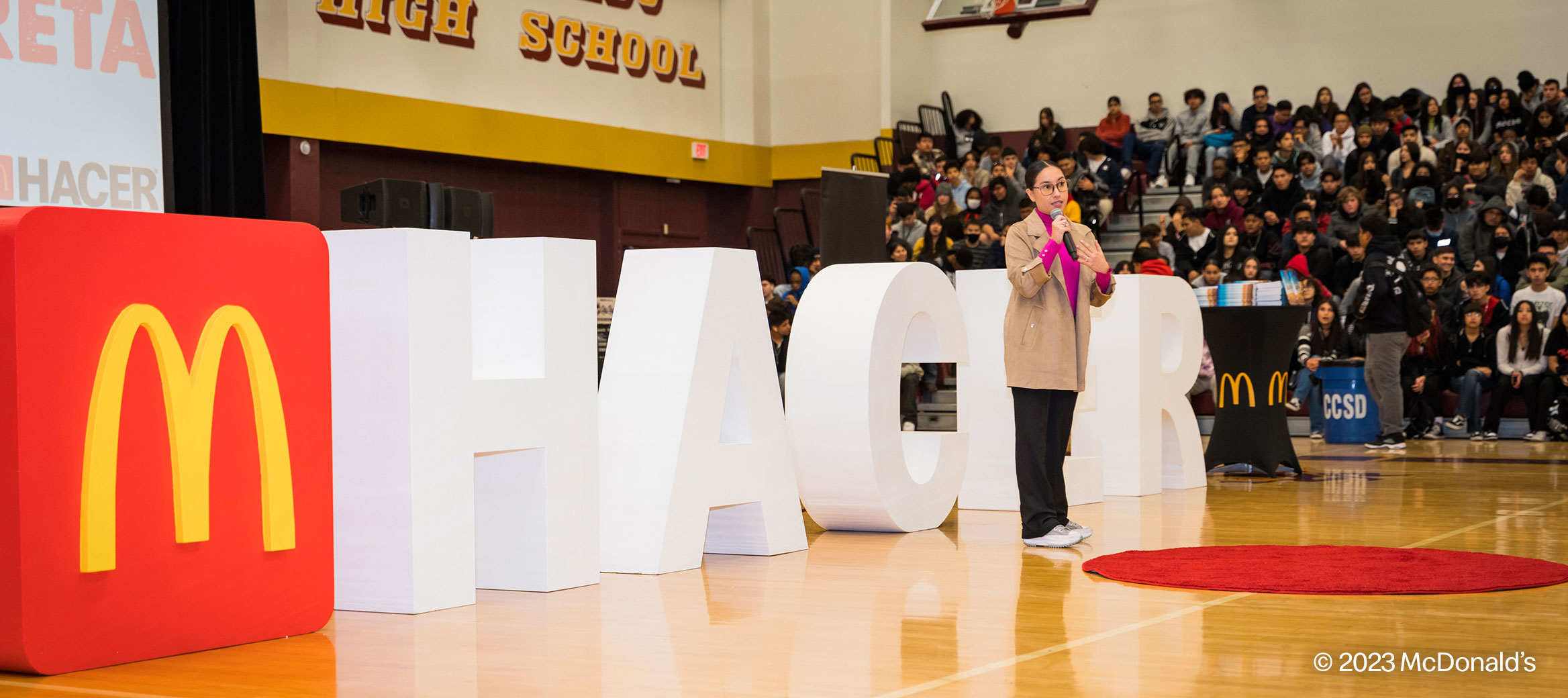 Making an Impact Across the Country with HACER®
Katya's partnership with the McDonald's HACER® National Scholarship is a full-circle moment for the engineer, as she considers her time at McDonald's foundational to her approach of becoming an astronaut. Last fall, she reunited with the Golden Arches as a guest speaker in the annual McDonald's HACER® Education Tour, inspiring Hispanic students to reach for the stars with in-person workshops and 1:1 mentorship sessions across select high schools. The education workshop series is hosted by CoolSpeak, the leading youth engagement company in the country, to help students in different cities navigate the college application process. Katya's final in-person appearance will take place at Bowie High School in El Paso, TX on January 19.
The McDonald's HACER® National Scholarship is one of the largest programs committed to college scholarships and resources for Hispanics, giving students the golden opportunity to receive up to $100,000 for their education. Since 1985, the program has awarded more than $33 million in scholarships to more than 17,000 students. McDonald's and its Hispanic Owner/Operators are proud to continue its legacy for the 2022-2023 academic year.
About McDonald's USA
McDonald's has always been committed to the communities it serves, and the people that make up those communities. Every day the brand takes steps to achieve a more equitable and inclusive future for our employees, Franchisees, suppliers, customers, and the communities we serve and foster.
McDonald's USA, LLC, serves a variety of menu options made with quality ingredients to nearly 25 million customers every day. Ninety-five percent of McDonald's 14,000 U.S. restaurants are independently owned and operated by businessmen and women. Our global aspiration is that no matter where you are in the world, when you interact with McDonald's — through the app, in a restaurant, by watching a commercial, working in an office setting or as a crew member — Diversity, Equity and Inclusion (DEI) are as evident and familiar as the Golden Arches. For more information, visit www.mcdonalds.com, or follow us on Twitter @McDonalds and Facebook. www.facebook.com/mcdonalds.
About Katya Echazarreta
Katya Echazarreta is a Mexican-American electrical engineer, STEM content creator, and civilian astronaut who at only 26 years old, became the first Mexican-born woman to fly to the edge of space as a member of Jeff Bezos' Blue Origin's NS-21 spaceflight mission. She was selected from a pool of 7,000 applicants from more than 100 countries as a Space for Humanity Ambassador based on her outstanding achievements in the space industry.
Katya's partnership with the McDonald's HACER® National Scholarship is a full-circle moment for the engineer, as she worked at her local McDonald's as a partial breadwinner for her family when she was in high school. The first-generation college student earned her B.S. in Electrical Engineering from UCLA while on a scholarship and is currently on the way to earning a Master's degree at Johns Hopkins University, all while inspiring and encouraging young Latinos across the country to pursue their dreams!