Get an inside look at McDonald's 6th annual "Burger Hack" through the lens of a hacker
Burger Hack, McDonald's annual hackathon, brings together employees from across the company and select provider partners to dream up new ways to make lasting impacts on our communities, enable growth, and delight customers, crew members, and employees. 
"Being new to McDonald's, I was thrilled to come into an environment that values innovation—it's what will enable our long-term growth," said Senior Vice President and Global CIO Brian Rice. 
Ever wondered what the day in the life looks like at the Hackathon? Check out Global Technology Rotational member, Maitree Shukla's diary below: 
Diary of a Hacker – My Burger Hack Experience
Pre-Hackathon 
I decided to sign up for the Hackathon this year because it seemed like a fun opportunity to enhance my technical skills, explore new technology ideas, meet new people, and learn about unique initiatives!
October 6, 2022
One week before the Hackathon –My colleagues Grace Win, Maryclare Leonard, Will Moran, Ben Plzak, Claire Gertsmeier and I teamed up and called ourselves The Hamburglars! I can already tell everyone's full of the most creative, innovative ideas. Can't wait for a sleepless 28 hours full of hacking, activities, coffee, and most importantly, McDonald's merch!
October 13, 2022
8:05 a.m.:
Feeling good this Thursday morning! I just got to McDonald's Global Headquarters, checked in, and headed up to the Work Café for breakfast! Now, waiting for the kickoff - I'm super excited to hear words of wisdom from Vice President, Strategy & Planning Kristin Swayze and Global CIO Brian Rice!
Grace, Will, and I waiting for kickoff to begin!
9:30 a.m.:
My team and I just made our way to the conference room that will be our workspace for the next 28 hours. But first, we took a moment to unbox our swag! Now, time to hack.
My swag box consisted of a T-shirt, pickleball set, bucket hat, trading pins (these became hot commodities as the event went on), stickers, and a tote bag!
11:42 a.m.:  
We've spent the last two hours developing our problem statement and wireframing our ideas. We chose the "Increasing Women in Tech," challenge because we all felt that increasing women in technology is an extremely important initiative that needs to be addressed at the root cause. So, we are working to create a solution that inspires young women to pursue STEM fields to help McDonald's achieve its long-term goals of improving representation of women at all levels of the company.
Noon
Lunchtime! After grabbing a boxed lunch, my team and I headed up to the Work Café and had a refreshing conversation on all things unrelated to the hackathon. A quick break away from our room was exactly what we needed before diving back into our ideas.
3 p.m.
We're facing some challenges regarding the feasibility and scaling logistics of our idea. We want to create a solution that is easy to implement, but our framework is currently quite fragmented.
The bleakness in the room is palpable, and we are desperately in need of a refreshing break. So, we're stepping away for a bit to participate in the arcade tournament! Hopefully when we come back with clear minds, we will be able to tackle our challenges!
I decided to sign up for the Cornhole tournament, along with my teammate Ben, and turns out, we're facing each other in the first round of the bracket! 
3:25 p.m.
Update: Ben is insanely skilled at Cornhole! He beat me by a landslide and won the whole Cornhole tournament! Let's go Ben!!!
Left: Ben with his raffle tickets after winning the Cornhole tournament. Right: Evidence of Ben crushing me in our Cornhole match.
4:45 p.m.
About an hour or so ago, my team got some advice from our mentors, Josh Wesolowski and Franklin Flores who brought logistical and technical expertise that helped us refine our idea. Josh provided constructive feedback on why our current idea seems difficult to implement, helping us shift to a more sensible structure. Franklin shared his prior experience working on an initiative similar to our idea, which ignited even more ideas for us!  I can't even begin to explain how much insight they provided! 
Putting our director hats on top of our hacker hats to film a video demo for our pitch 😊
7 p.m. 
My team and I grabbed some dinner and took a break to mingle with other teams. I don't have much to say other than the break was extremely necessary and the pasta primavera was delicious. 
9 p.m.
After many takes, we just finished recording a portion of our demo! We're all feeling exhausted, hitting the 12-hour mark of the hackathon, but honestly, rewatching the silly bloopers of our video recordings is revitalizing our morale. Hopefully, only a couple more hours to go now!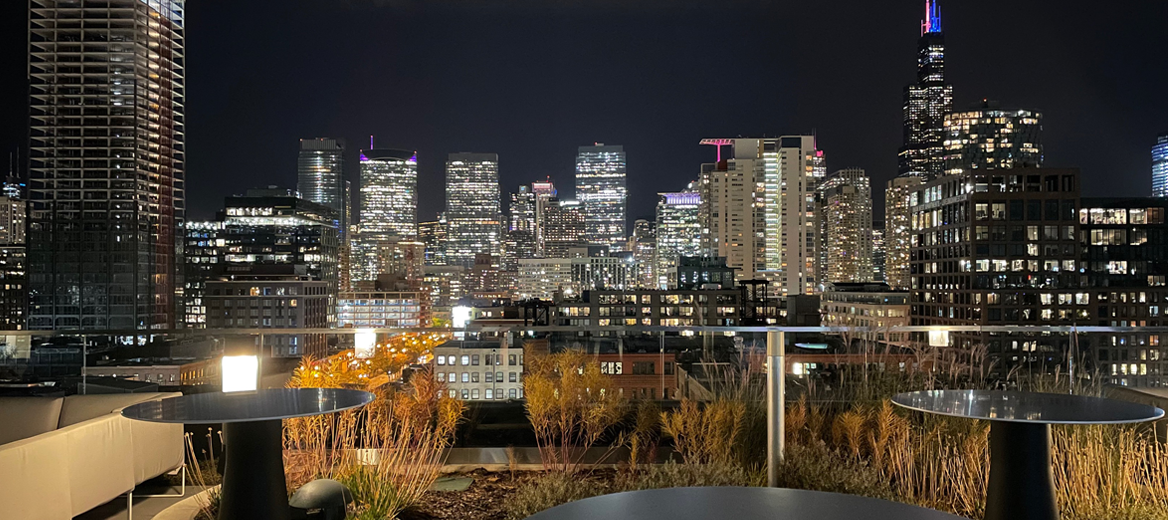 October 14, 2022
12:07 a.m.
I just finished recording the presentation video, while my teammate Will worked on editing the demo video. We're approaching the finish line! Some lovely volunteers also brought in two large boxes of pizza just for our team – we're so grateful!
1 a.m. SHARP 
We just submitted all required deliverables: a five-page PDF, presentation slides, and three-minute demo and pitch videos! Woo hoo! I'm so immensely proud of my team for working together so seamlessly and efficiently! We are going to head home for a quick nap before presentation time, only a few hours from now!
5:30 a.m.
My "WAKE UP!" alarm just went off – time to head back to McDonald's Global Headquarters! I got around three hours of sleep filled with dreams of Burger Hack, but I'm ready to go and present to the judges!
8:05 a.m.
My team and I just finished presenting! I was so nervous leading up to it – shivering from the cold room temperature, while also sweating from anticipation of presentation. But honestly the pitch could not have gone better! It was fun sharing the outcome of our tireless work, but even more exciting was seeing the judges' enthusiasm for our idea! They asked us tons of great questions, giving us the opportunity to further share details of our design.
It was also interesting watching other presentations in our challenge category, seeing how each team brought a unique perspective to the table.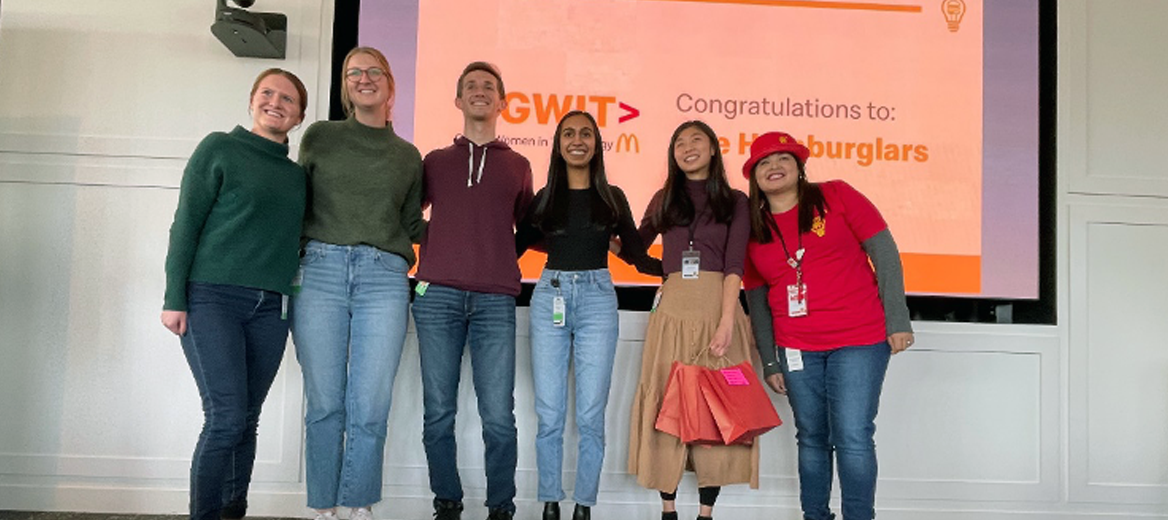 Noon
Burger Hack is finally wrapping up – winners were declared, awards and raffle winners were announced! My team's idea won the Global Women in Technology Award. The award was a complete surprise but was so gratifying, as my team and I are so proud of our solution.
Recap:
In retrospect, my first Burger Hack was an absolute success! It was a rewarding experience working with a team of brilliant individuals who shared a passion for our challenge. I gained new friends, knowledge, and memories!
I can't wait for Burger Hack 2023! See you all there. 😊