McDonald's Global Headquarters Restaurant Updates International Menu Items with Favorites from India, France and Australia
More new favorites from around the world are now on the menu at McDonald's global headquarters restaurant in Chicago's West Loop neighborhood.
Customers can enjoy new global menu items from India, Australia, Canada, Germany and Hong Kong.
"Customers have expressed interest in items from McDonald's restaurants located in India and we're excited to offer them the opportunity to try the long time vegetarian favorite, McAloo Tikki," said McDonald's Owner/Operator Nick Karavites.
This round of the global menu features:
Chicken McMuffin with Egg from Hong Kong, China, Singapore and other Asian markets, this breakfast sandwich starts with a toasted English muffin, topped with a McChicken patty, a fresh cracked egg, American cheese and mayonnaise.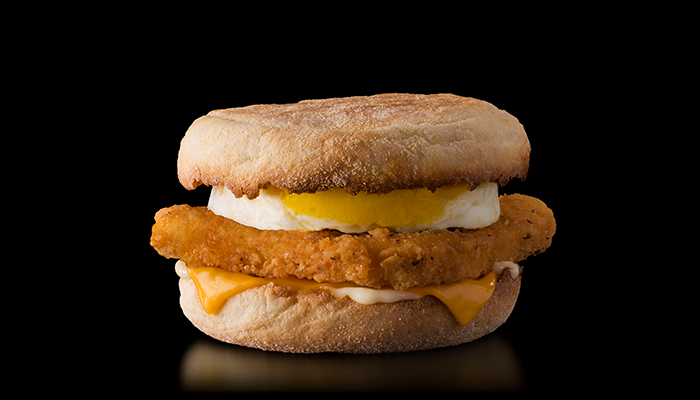 McAloo Tikki from India, a toasted bun filled with a veggie patty made with potatoes, pea and seasoning reminiscent of samosas; topped with fresh red onions, tomato slices and an eggless creamy tomato mayo.
Cheddar BBQ Bacon Burger from Australia, includes a third-pound Angus beef patty, seasoned with McDonald's proprietary Angus seasoning, topped with two slices of white cheddar cheese, two slices of bacon, grilled onions, mayonnaise and BBQ sauce, served on a toasted artisan bun.
Tomato Mozzarella Chicken Sandwich from Canada, seasoned chicken breast – with choice of grilled or crispy chicken – topped with fresh red onion rings, crisp leaf lettuce, sliced tomato, mozzarella cheese and a creamy tomato and herb sauce, all inside a toasted artisan bun.
Deluxe Potatoes from France, seasoned potato wedges with a creamy deluxe dipping sauce.
The 'Keep Calm, Caesar On' Salad from Canada, a mix of premium lettuces, topped with shaved parmesan cheese, bacon bits, roasted garlic focaccia croutons and a choice of sliced grilled or crispy chicken; offered with Caesar dressing or your choice of dressing.
The 'I'm Greeking Out' Salad from Canada, a mix of premium lettuces, topped with sliced cucumbers, red pepper strips, crumbled feta, seasoned couscous, herb and garlic pita chips, and a choice of sliced grilled or crispy chicken; offered with Greek dressing or your choice of dressing.
Chocolatey Wafer McFlurry from Germany, McDonald's vanilla soft serve swirled with crushed chocolatey wafer candy bars and a choice of hot fudge or warm caramel swirled in the mix.
In addition to the rotating global menu, the restaurant also serves up classic menu items including the Big Mac, the new fresh beef Quarter Pounder with Cheese, Chicken McNuggets and McDonald's World Famous Fries. Additionally, a Latin American-style dessert center offers delicious desserts including crunchy sugar cones topped with creamy soft serve available in vanilla, chocolate or twist varieties, as well as other sweet treats from around the world.
The more than 6,000-square-foot restaurant is one of the latest McDonald's Experience of the Future (EOTF) restaurants designed to dramatically transform the customer experience with modern designs, self-order kiosks, table service, mobile order and payment, McDelivery with Uber Eats and enhanced hospitality. The restaurant also features outdoor seating, and an ever-changing wall map with Golden Arches that illuminate when an item from a specific country is featured on the menu, and An Australian McCafé area serving up expertly brewed coffee crafted by McDonald's trained baristas.
Located at 1035 W. Randolph St. the restaurant is open from 6 a.m. to 10 p.m. seven days a week.
About McDonald's
McDonald's is the world's leading global foodservice retailer with over 37,000 locations in over 120 markets. Over 90 percent of McDonald's restaurants worldwide are owned and operated by independent local business men and women.