This Legal Superstar Aims to Make a Difference at McDonald's Every Day
Get to know Abiman Rajadurai, an esteemed member of McDonald's Legal Department and Vice Chair of McDonald's Asia Pacific Middle East Network (APMEN).  
Abiman joined McDonald's in 2017 believing its size would enable him to effect major change. Now, he considers himself "truly blessed" for the opportunity to work cross-functionally with people throughout the McDonald's system on a daily basis.  
"I love how we all work together to make the customer experience the best it can be," he says.
The Journey to a Job at McDonald's
Abiman was born in India and emigrated with his family to the United States at age 2. As a kid, his family moved around the Midwest a few times before settling in Michigan. "I think moving so much made me much more social and adaptable to change," Abiman explains.  
As it happens, Abiman was a big fan of legal television dramas growing up. "I wanted to be a lawyer back when I was 5 or 6 years old," he laughs. After college – where he met his now wife – Abiman did end up enrolling in law school, where he discovered his passion for employment law during a summer internship.
"I enjoyed how much employment law touches on peoples' issues, and how you can see the impact of your work right away," he says. 
In 2014, Abiman interviewed for a role on his current team but didn't get the job. He enjoyed the process and hoped he would have another opportunity down the road. In 2017, Abiman unexpectedly received an email from Rafael Medina, an attorney who had met him during the 2014 process, asking if he was still interested in joining McDonald's global labor and employment team. The answer was an unequivocal "yes."
Since joining McDonald's, Abiman has ascended to the role of General Counsel for McDonald's Operating Company (McOpCo) - the company-owned restaurants in the United States. Every day, his north star is helping ensure McDonald's guests receive a fabulous customer experience when they interact with our restaurants.  
"In order to give customers the best experience, we have to give employees the best experience," he says. "After all, they're the touch point for McDonald's billions served."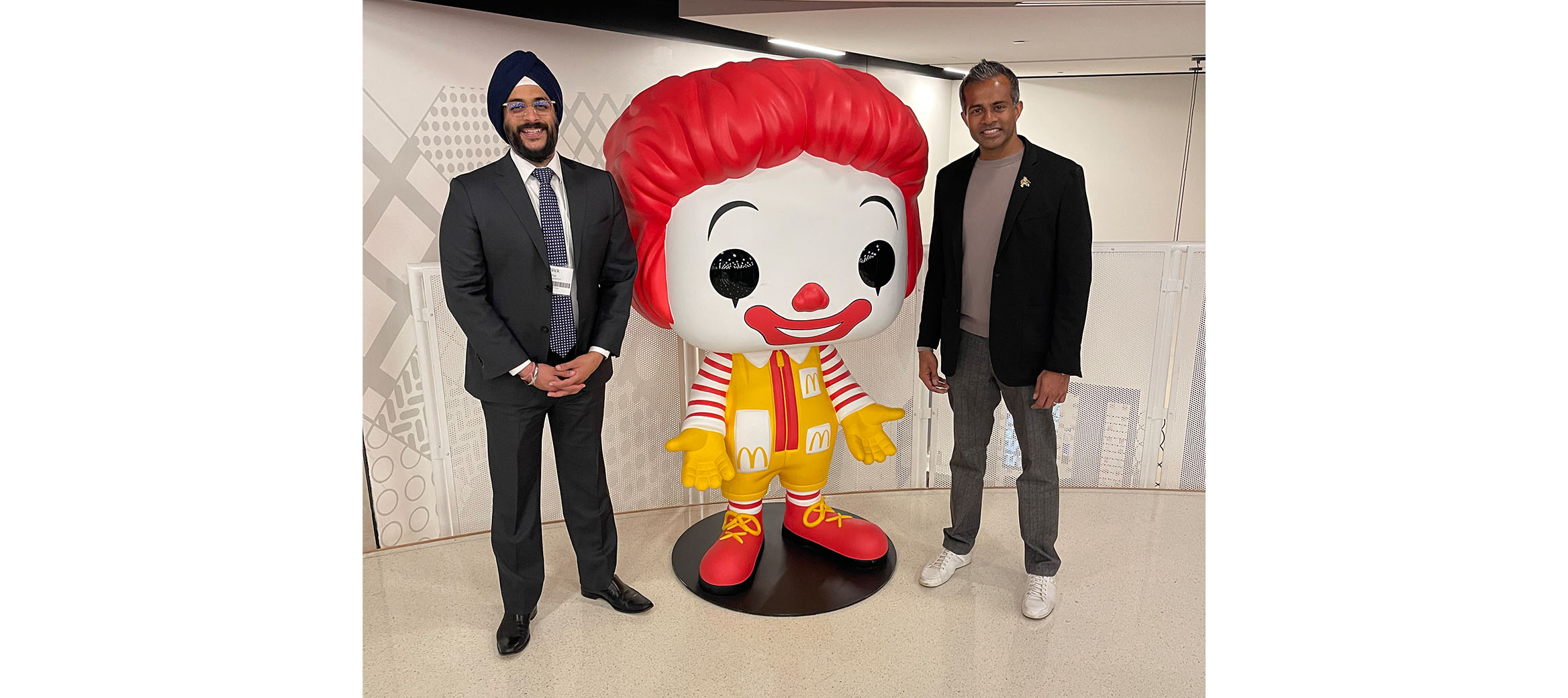 Making a Difference Beyond McDonald's
Abiman's passions extend beyond his legal work impacting McDonald's business. During his first year at McDonald's, Abiman joined McDonald's Asia Pacific Middle East Network (APMEN). By 2019, he'd been named Co-Chair for the McDonald's Headquarters (MHQ) chapter, and in December 2022, he was appointed Vice Chair for the global APMEN network.
"I take my role with APMEN very seriously," Abiman says. "I know I and our members find support and inspiration in the network, and it's important to me that everyone feels included."
Abiman is also active on the legal department's Pro Bono Committee as well as its Diversity, Equity, and Inclusion Committee, and sits on the boards of local nonprofits. "I'm passionate about giving people chances and opportunities that they might otherwise not get," he says. 
One thing he loves and appreciates is that, "everyone has a McDonald's story."
"I vividly remember being so excited to get my Chicken McNuggets growing up," he says. "It's so cool to be here 30+ years later and create those same moments and opportunities for other people around the world."
Related Stories 
____________________________________________________________________________________________________________________________________