McDonald's USA to Raise Pay at Company-owned Restaurants across the Country
Move reinforces industry-leading pay and benefits packages for more than 36,500 hardworking employees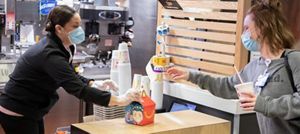 CHICAGO, Ill., May 13, 2021-- McDonald's will be raising hourly wages for more than 36,500 hardworking employees at McDonald's-owned restaurants by an average of 10 percent. These increases, which have already begun, will be rolled out over the next several months and include shifting the entry level range for crew to at least $11 - $17 an hour, and the starting range for shift managers to at least $15 - $20 an hour based on restaurant location.
Entering into the busy summer season with dining rooms re-opening where it is safe, McDonald's-owned restaurants are looking to hire 10,000 new employees over the next three months.
"Our first value is taking care of our people, and today we are rewarding our hardworking employees in McDonald-owned restaurants for serving our communities," said Joe Erlinger, President McDonald's USA. "These actions further our commitment to offering one of the leading pay and benefits packages in the industry."
These raises reflect McDonald's commitment to evaluating competitive wage data and the evolving legislation and regulatory environment to determine the appropriate wage ranges on a market-by-market level. Based on this trajectory of the current marketplace, McDonald's expects the average hourly wage for its company-owned restaurants to increase to $15 an hour in a phased, market-by-market approach. Some restaurants have, or will, reach an average hourly wage of $15 an hour in 2021, and average hourly wages are expected to reach $15 an hour by 2024. The business will assess periodic adjustments to wages and benefits on an ongoing basis to remain competitive and support the needs of employees.
The increases announced today come in addition to the competitive benefits package offered to eligible employees in McDonald's-owned restaurants including:
· Paid time off to recharge
McDonald's benefits grow as employees' careers grow. All McDonald's-owned restaurant employees have an opportunity to take time away from work, to recharge or care for their health, and still be paid for that time.
· Serving up brighter futures through access to education
McDonald's serves up brighter futures through Archways to Opportunity, a program for restaurant employees looking to further education and career opportunities including: $2,500 (crew)/$3,000 (manager) a year in college tuition assistance, opportunity to receive a high school diploma at no cost, and English as a Second Language programs. Employees are eligible after 90 days of employment at an average of 15 hours per week.
· Employee assistance in times of need
Short-term counseling services, which are available to employees and family members, provide access to help find solutions in many areas including housing, childcare, grief, legal referrals and financial counseling.
· Planning for the future and 401k
Through the 401k plan, McDonald's helps eligible employees save for retirement. Employees are eligible to put money into the plan, and have McDonald's match 100 percent of contributions up to 6% of pay, if they are at least 21-years-old and have worked for McDonald's for at least 1,000 hours in a 12-month period.
· Perks for working under the Arches
Employees can take advantage of a number of reward programs, like earning cash incentives for performance that can be redeemed through gift cards for the things they love, in addition to a corporate discount program to save money on their daily essentials.
· The beloved McDonald's menu
Employees are eligible for a free meal during their shift and discounts outside of work on their favorite McDonald's menu items.
ABOUT McDONALD'S USA
McDonald's USA, LLC, serves a variety of menu options made with quality ingredients to nearly 25 million customers every day. Ninety-five percent of McDonald's nearly 14,000 U.S. restaurants are independently owned and operated by local business owners. For more information, visit www.mcdonalds.com, or follow us on Twitter @McDonalds and Facebook. www.facebook.com/mcdonalds.