Mic Drop: Global Artist Camilo Joins Ritmo y Color McDonald's, Inviting Fans Nationwide to Vote for Concert Destinations
The third annual music and art collaboration features a series of live musical performances while McDonald's restaurants across six U.S. cities are transformed into canvases displaying vibrant artworks by hometown visual artists.
UPDATE: September 25, 2023 – Camilo's tribu is in for a treat. After casting their votes to determine the cities where their favorite artist would perform live, the results are in: Camilo is headed to Miami and New York to headline an exclusive Ritmo y Color McDonald's concert series! The performances are set for September 28 and October 10, respectively.
Those who voted will receive priority access to secure their tickets. If you didn't have a chance to vote, you might still be in luck! Limited tickets are available for both cities on a first-come, first-serve basis on the following links: Miami, New York.
While jamming out to Camilo's fan-favorite hits, fans can also expect to see the captivating artwork of the seven talented Latino artists that transformed local McDonald's restaurants this summer. To learn more about their stories, visit ritmoycolormcd.com.
---
(CHICAGO–June 14, 2023) Fans across the country are in for the hottest music and art mashup of the summer with the return of Ritmo y Color. This year, McDonald's USA is taking the third annual celebration of Latino pride and culture to a whole new level with a fiery lineup featuring three headline performances by Colombian singer-songwriter and five-time Latin GRAMMY® winner, Camilo, plus augmented reality art installations by seven visual artists across select U.S. McDonald's restaurants. The collab will again shine a light on talented new voices and stories as part of McDonald's long-standing commitment to championing the diverse communities it serves, including the Hispanic community.
"For Latinos, our ritmo and cultura are the beating heart of who we are as individuals and as a community," said Camilo. "Teaming up with McDonald's for Ritmo y Color is the perfect opportunity to bring mi gente together in celebration of our shared heritage through the power of music and art. I invite La Tribu to join us on this journey as we fuse together the unmistakable rhythms, colors, and energy that define us."
Read all about the festivities below:
Taking Ritmo on the Road
To kick off the musical experiences, McDonald's is giving fans front-row access to Camilo's inaugural concert, premiering on his YouTube channel on June 27. Enjoy an intimate acoustic session featuring his chart-topping hits and the vibrant artwork from the restaurant installations.
Craving more? As a Ritmo y Color exclusive, McDonald's is putting the power in the hands of fans nationwide, letting them decide the next two cities where Camilo will perform LIVE. From June 27 to July 18, head over to www.ritmoycolormcd.com and cast your vote for one of the six participating major U.S. cities with restaurant takeovers. The two cities with the most votes will host Camilo for an unforgettable in-person performance during the fall.
Putting the AR in Art
Ritmo y Color is expanding to more cities than ever! Throughout the summer, a vibrant explosion of color is taking over McDonald's restaurants across six U.S. cities with deep Latino roots including New York, San Antonio, Dallas, Chicago, San Jose and Miami.
A new roster of seven Hispanic visual artists is transforming McDonald's restaurants' facades in their hometowns with artwork that highlights their unique cultural backgrounds. Each of these visual storytellers come from diverse communities and pay homage to the richness of their Latino heritage in unique, authentic ways.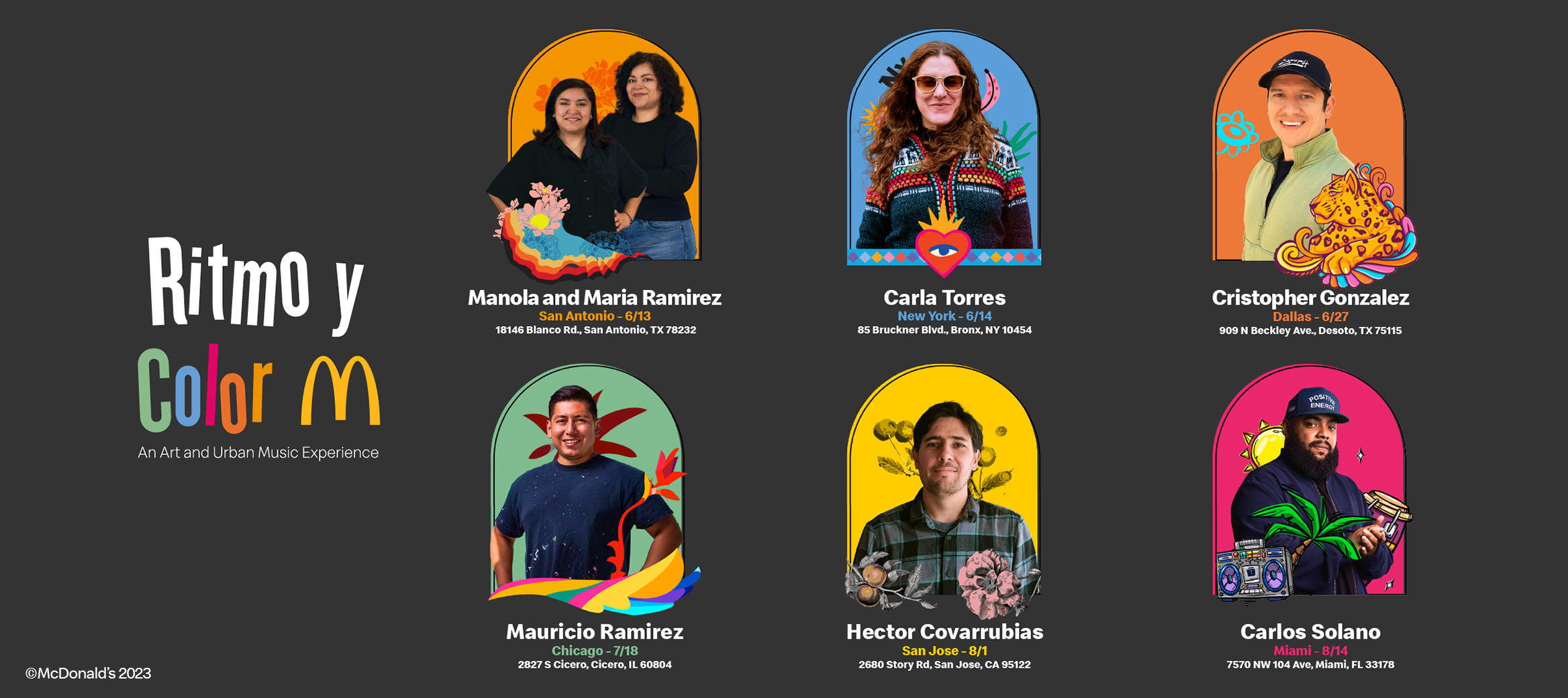 And McDonald's is also bringing all the artists together for a collaborative mural featuring key elements from each of their installations that will live inside all art-wrapped restaurants. Fans that stop by the participating locations in person can scan the mural to unlock an augmented reality experience that brings the artwork to life right before their eyes.
Carrying On the Ultimate Celebration of Latinidad
Since its 2021 introduction, Ritmo y Color McDonald's has celebrated the culture and collective pride of the Hispanic community, giving music and visual storytellers a platform to showcase their talent through exclusive online and in-restaurant events.
This year, the ultimate celebration of Latinidad is back and bigger than ever, and for the first time, giving fans the opportunity to bring their favorite music artist to a city near them.
ABOUT MCDONALD'S
McDonald's is committed to the communities it serves, and the people that make up those communities. For more than three decades, the Golden Arches has given back and connected with the Hispanic community through initiatives in music, education, and sports, as well as supporting local charities and organizations. All these actions aim to uplift the voices and stories of Latinos. 
McDonald's USA, LLC, serves a variety of menu options made with quality ingredients to millions of customers every day. Ninety-five percent of McDonald's approximately 13,500 U.S. restaurants are owned and operated by independent business owners. For more information, visit www.mcdonalds.com, or follow us on Twitter @McDonalds and Facebook at www.facebook.com/mcdonalds.
ABOUT CAMILO
Five-time Latin GRAMMY® winner and three-time GRAMMY® nominated Colombian singer-songwriter, musician, and producer Camilo is considered one of the greatest champions of Pop from his generation.
His 2019 debut album, 'Por Primera Vez', debuted at #1 on Billboard's Latin Pop Album Chart and went platinum in four countries, including the US where the album is currently certified 4X platinum. It was nominated for Best Latin Pop Album at the 63rd Annual GRAMMY® Awards. The album includes singles such as "Tutu" (in its original version with Pedro Capó and the remix with Shakira), which is certified 10X platinum by the RIAA, and has accumulated more than 2.3 billion combined streams.
Camilo's second album, 'Mis Manos' was released in 2021 and led him to become the most nominated and awarded artist at the 22nd Latin GRAMMY® Awards. The album peaked at #2 on Billboard's Latin Pop Albums Chart and is certified 2X platinum in the US.
In September 2022, Camilo released his third studio album 'De Adentro Pa Afuera', with features from Camila Cabello, Myke Towers, Grupo Firme, and more. The album has garnered over 1.6 billion audio and video streams to date, is certified platinum in the United States, peaked at #6 on Billboard's Latin Pop Albums Chart, and was nominated for Best Latin Pop Album at the 65th Annual GRAMMY® Awards.
Also last year, Camilo was announced as the cover of Billboard's first ever all-Spanish language digital brand - Billboard Español. He also partnered with Telemundo to produce the network's official song for the 2022 FIFA World Cup™. Camilo's documentary, CAMILO: EL PRIMER TOUR DE MI VIDA, was released in November on HBO Max in the U.S. and Latin America. Also in November he took to the stage at Jimmy Kimmel Live! for a special performance of "Índigo", the highest streaming song from 'De Adentro Pa Afuera' at over 707 million total streams.
Earlier this year, Camilo completed the second phase and Latin America leg of his "De Adentro Pa Afuera Tour," performing to huge crowds at venues across Argentina, Colombia, Chile and more.  The tour began at the Arena de Monterrey, Mexico last May and has included sold out shows across the world.