McDonald's Ritmo y Color Returns with New Art and Music Experiences & Here's What Fans Can Expect
McDonald's USA is again celebrating the Hispanic community with Ritmo y Color, an experience marrying Latin urban music and art, brought to life by artists who champion and transcend their generation.
From turning Drive-Thru routines into unforgettable musical experiences, to wrapping McDonald's restaurants in beautiful Latin-inspired artwork, to offering exciting virtual concerts, Ritmo y Color elevated Latinidad stories in 2021, its debut year.
Ritmo y Color represents McDonald's long-standing commitment to feeding and fostering the Hispanic community through impactful programs that fuel Latino pride and representation.
The 2022 experience will launch with Puerto Rican singer and reggaeton artist Lunay, offering fans more ways to celebrate Hispanic culture via art and music. Now through October, the program will feature curated in-person moments in addition to virtual excitement for all to enjoy.
Read on for three reasons why you don't want to miss this year's Ritmo y Color experiences:
A New, Star-Studded Lineup
McDonald's has remixed Ritmo y Color with a new lineup of some of today's hottest Latino musical artists and visual storytellers.
Cuban American street artist and muralist Ivan Roque and Mexican visual artist and muralist Dora "Zeneth" Reynosa, are wrapping McDonald's restaurants in Miami and Dallas, their hometowns, respectively, with designs that highlight the cultural expressions of their Latinidad. 
Puerto Rican singer and reggaeton artist Lunay is headlining the first series of experiences with a one-of-a-kind virtual concert that will showcase the visual artwork from the restaurant pop-up installations in Miami and Dallas for fans to experience a truly unique mashup of Latino culture.
And this fall, Ritmo y Color will bring more exciting collaborations featuring a second set of artists paired with another soon-to-be-revealed Latino headliner.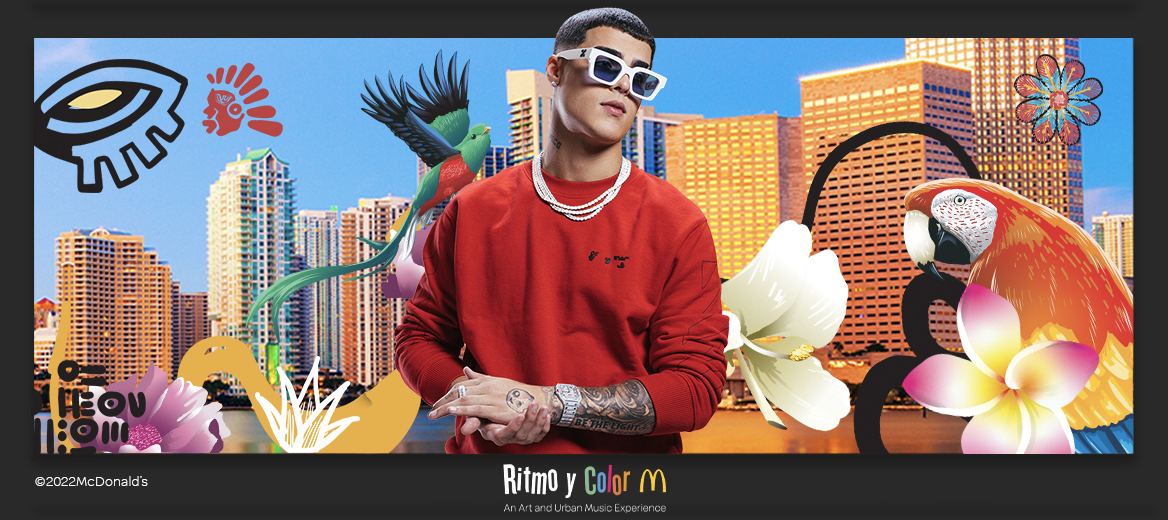 New City Pop Up Art Installations
Starting today (June 16), art aficionados can view Ivan Roque's vibrant piece wrapped around the McDonald's restaurant location in Miami's Edgewater neighborhood (3501 Biscayne Blvd). The piece, titled "De la Misma Ala" (From the Same Wing), draws inspiration from the unity among the Latino community and the richness of the culture.
On July 12, Dora "Zeneth" Reynosa's work will be featured in a Dallas McDonald's restaurant located in the Northwest Dallas neighborhood (2197 W Northwest Hwy). The colors and style of her piece, titled "El Néctar de la Tierra" (The Nectar of the Earth), represent movement, fluidity, life and energy as a love letter to her Mexican heritage.
In addition to Miami and Dallas, two McDonald's restaurants in Phoenix and Los Angeles – both communities with deep Latin roots – will serve as canvases for local visual artists in September and October, respectively.
Free Virtual Concerts
And for those who won't be able to participate in the events taking place throughout the country, no worries because Ritmo y Color will once again host virtual concerts for music fans everywhere to enjoy.
Lunay will be first to hit center stage with a musical performance featuring some of his fan-favorite hits available on the week of July 25 via his YouTube channel, followed by a soon-to-be-revealed Latin artist in October. Bringing the program full circle, the concert stages will feature the art from the wrapped restaurants, giving fans a virtual space where they can hear, see and celebrate Latino culture
For more than three decades, the Golden Arches has invested in the Hispanic community through initiatives that uplift the voices and stories of Latinos in music, education, and sports, in addition to supporting local charities and organizations.
Fans are encouraged to visit www.ritmoycolormcd.com to register for the free virtual concert experiences, and learn more about the exciting artist collaborations and upcoming cultural moments.