5 Things to Know About McDonald's New Test Restaurant in Texas
There's never been a McDonald's restaurant quite like this before.
Here's what you need to know about a new McDonald's test restaurant located just outside Fort Worth, Texas (and why we're so excited about it):
1.  There's a brand new way to pick up your order: The Order Ahead Lane. The Order Ahead Lane is a separate Drive Thru lane where customers receive their orders via a food and beverage conveyor. This is a great option for customers who want to place their order ahead of arrival through the McDonald's app, skip the traditional Drive Thru line and receive their food quickly and conveniently.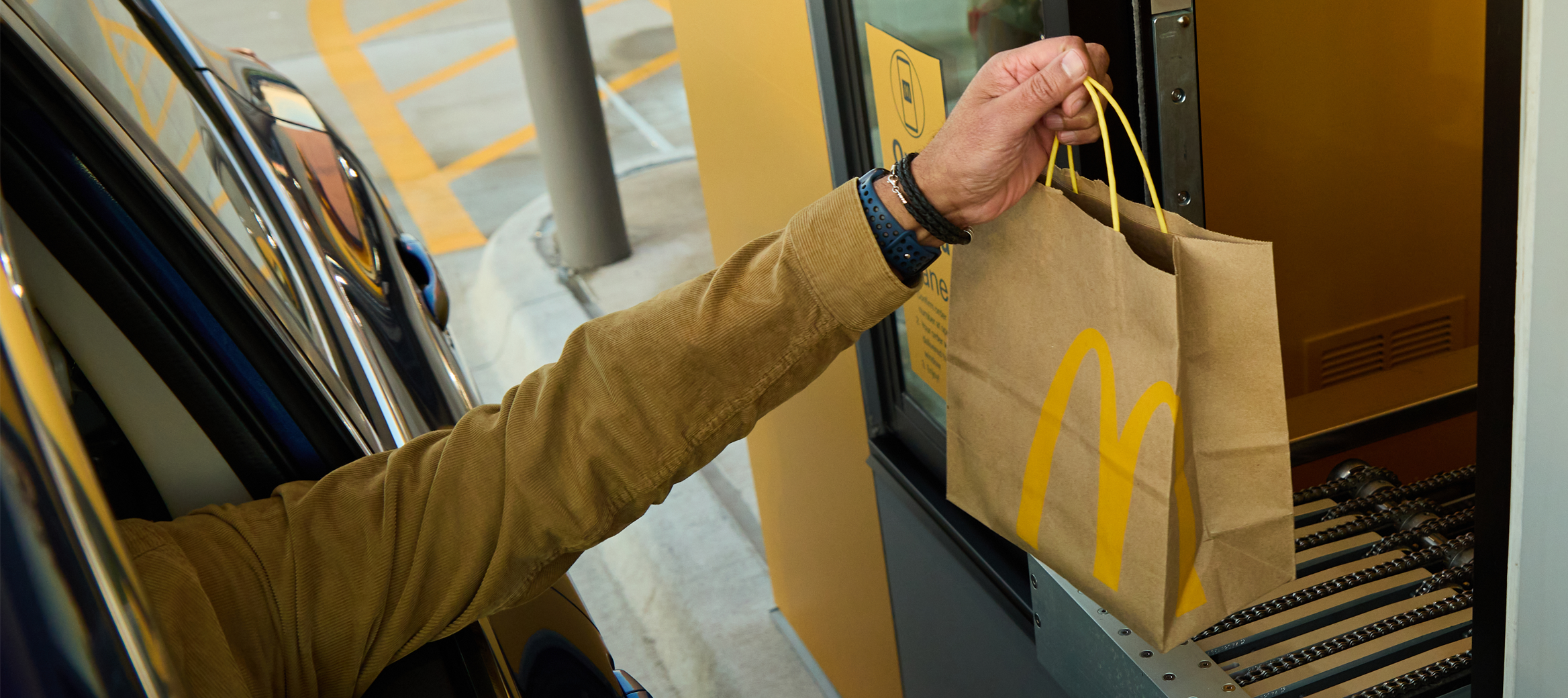 "At McDonald's, we've been setting the standard for Drive Thrus for more than 45 years," explains Max Carmona, Senior Director, Global Design & Restaurant Development, McDonald's. "As our customers' needs continue to change, we are committed to finding new ways to serve them faster and easier than ever before."
2. It's designed for customers on the move. When you step inside the test restaurant concept, you'll notice it's considerably smaller than a traditional McDonald's restaurant in the U.S. Why? The features – inside and outside – are geared toward customers who are planning to dine at home or on the go. Inside the restaurant, there's a delivery pick-up room for couriers to retrieve orders quickly and conveniently. There are also kiosks, where customers can place their orders to go, and a pick-up shelf for orders. Outside the restaurant, there are several parking spaces dedicated to curbside order pick-up, as well as designated parking spaces for delivery drivers.
3. Our technology makes for a better crew and customer experience. The Order Ahead Lane uses technology that allows the restaurant team to begin preparing customers' orders when they're near the restaurant. The enhanced technology at this location helps the hardworking restaurant team, too. The restaurant's app updates, food and beverage conveyor, and new kitchen format all streamline operations – leading to a fast, seamless experience for both customers and crew. "The technology in this restaurant not only allows us to serve our customers in new, innovative ways, it gives our restaurant team the ability to concentrate more on order speed and accuracy, which makes the experience more enjoyable for everyone," explains Keith Vanecek, the franchisee operating the test restaurant.
4. It's "test and learn" – for now. This unique restaurant concept can only be found in one location outside Fort Worth, Texas. We're excited to test new ideas and innovations that can potentially benefit restaurant teams and customers around the world.
5. Testing this new restaurant concept is part of McDonald's "Accelerating the Arches" growth strategy – and we first shared our plans for this concept at our Investor Update in 2020. We're always innovating to improve our customer experience, no matter how they want to order or receive their food. "I am immensely proud to have this new restaurant concept serving our customers in the Dallas-Fort Worth Metroplex," Keith Vanecek says.
We can't wait for local customers to experience it.