McDonald's USA Celebrates 21 Million (and counting!) MyMcDonald's Rewards Besties with First-Ever FANnual Report
2021 will go down as the year McDonald's USA gave fans what they've been clamoring for – an official loyalty program, MyMcDonald's Rewards*! And let us tell you, they did not disappoint in showing us how deep their loyalty runs. In fact, more than 21 million customers enrolled in MyMcDonald's Rewards – that's more than the entire population of Florida! They truly brought the love every day, so as we round out the year, we're highlighting these amazing fans with our first-ever FANnual Report.
Think you could guess what menu items were redeemed most with their MyMcDonald's Rewards points? Or what day of the week most fans cashed in on their rewards? Well, you may be surprised. Take a look at the FANnual Report and see if you guessed right!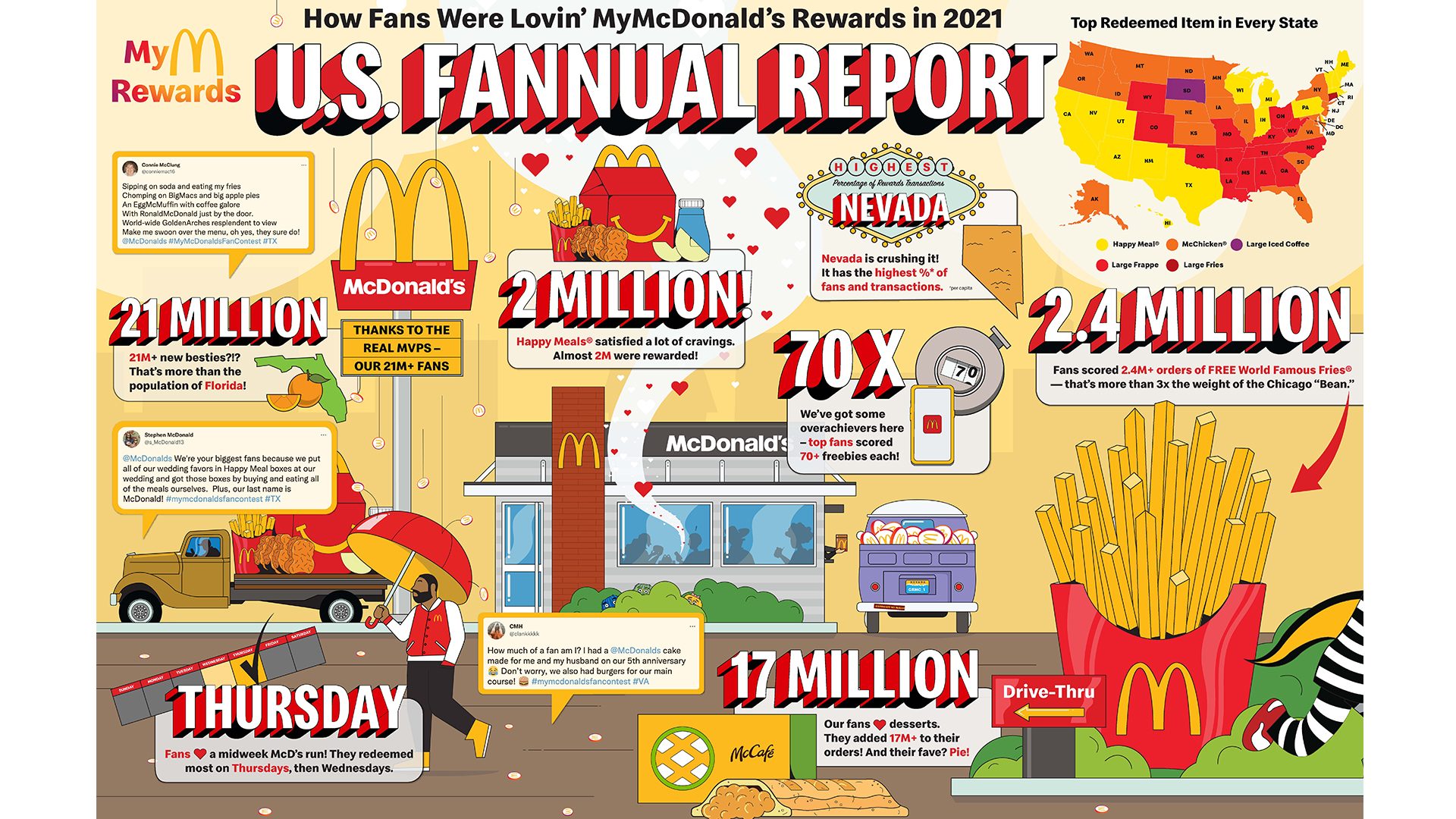 *Click here for a downloadable FANnual Report and the full list of stats.
"Our fans have been showing us their loyalty long before the launch of MyMcDonald's Rewards, for 66 years to be exact! So, as we wrap up the year, we want to thank each and every one of them for joining us in our loyalty journey," said Alycia Mason, Vice President of Digital Customer Experience & Media, McDonald's USA. "As we look ahead to 2022, we're so excited to see MyMcDonald's Rewards continue to grow, and keep rewarding fans with what they love most." 
If you're curious for fun facts about your own McDonald's preferences in 2021, make sure you're signed up for MyMcDonald's Rewards and stay tuned for a personalized update in January**!
*Program available only at participating McDonald's restaurants. Refer to MyMcDonald's Program Terms for details. Excludes delivery. McD App download and registration required.
**MyMcDonald's Rewards members who have signed up and earned loyalty points by 12/31/2021 will receive a personalized email recognizing their loyalty in January 2022.