Global Bachata Superstar Prince Royce Joins McDonald's USA to Wrap Up the 2022 Ritmo y Color Experience at his "Classic Tour" Stop in Los Angeles
Art installations by Latino visual artists are also popping up at McDonald's restaurants in Phoenix and Los Angeles to celebrate stories of Latinidad
(CHICAGO - OCT. 4, 2022) Following the launch of this year's Ritmo y Color experience, McDonald's USA has teamed up with multi-platinum, award-winning bachata singer, Prince Royce, to end the program with a bang at his "Classic Tour" stop in Los Angeles on Oct. 7. But the fun doesn't stop there! McDonald's restaurants in Phoenix and Los Angeles are also being transformed into pop-up art installations to celebrate and elevate the voices and stories of the Hispanic community.
Pop-Up Art Installations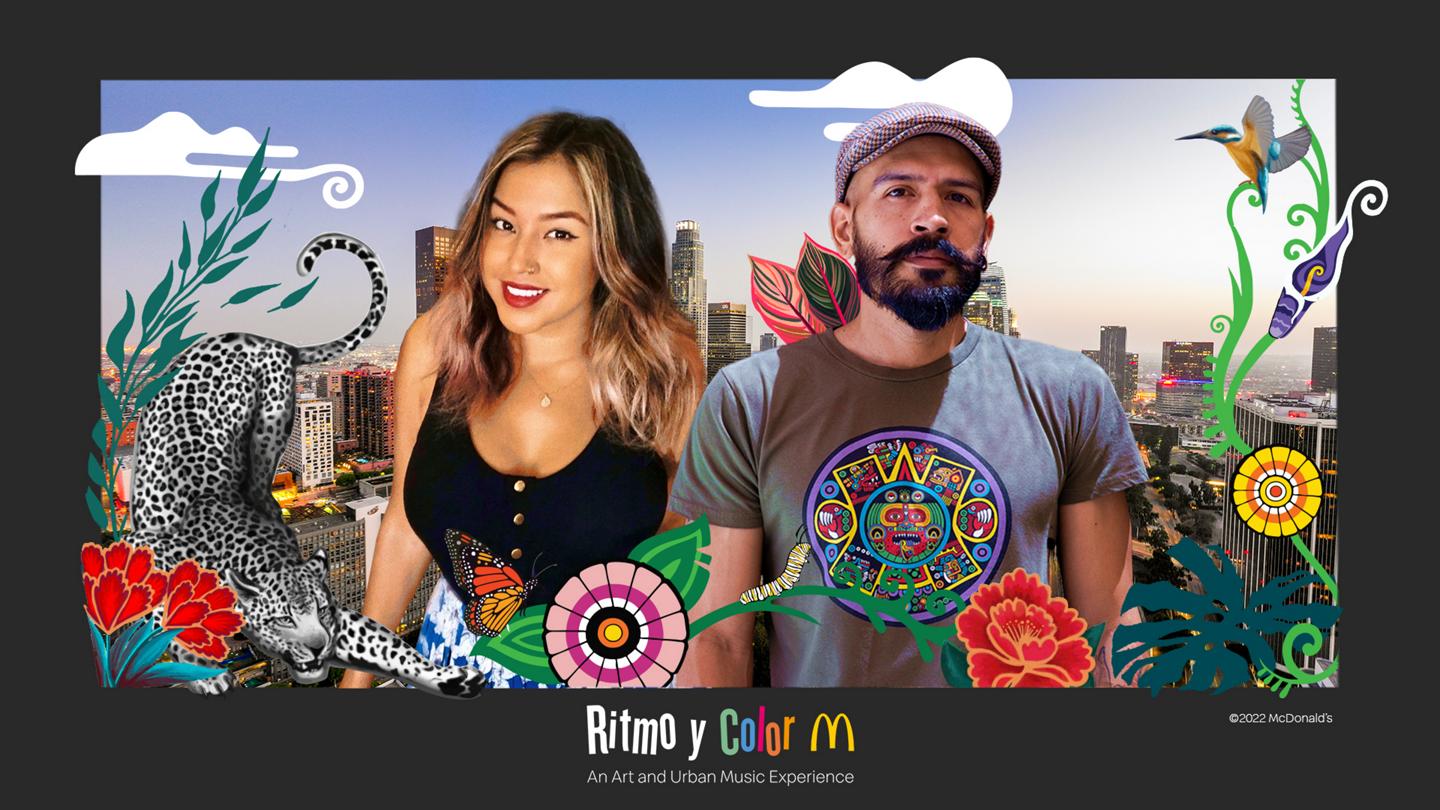 Fans in Phoenix can now step into the colorful world of Liliana Mora who took over the McDonald's restaurant in the Grandview neighborhood (3501 W Bethany Home Rd). The Colombian-American muralist and illustrator's piece titled "Tú Eres Fuerte" (You Are Strong) draws inspiration from her U.S. upbringing, incorporating elements such as animals, botanicals and foliage to symbolize her past, present and future in discovering her Colombian heritage.
Starting today, Oct. 4, RAH Azul's artwork will wrap the East Los Angeles McDonald's located at 1617 N Eastern Ave. The first-generation Mexican American visual artist's piece titled "La Metamorfosis Floreciente" (The Blossoming Metamorphosis), speaks to growth, perseverance and transformation. His butterfly motif represents constantly staying in motion, even against all odds, which he believes all Latinos can relate to while finding ways to overcome unforeseen challenges.
Both installations will be available for a limited time only. Be sure to check them out before they are gone!
In-person and Virtual Music Moments
Prince Royce returns to the concert stage with his "Classic Tour" with stops in 15 U.S. cities as he celebrates his decade-long career. On Oct. 7, fans will be immersed in the Ritmo y Color McDonald's experience during a unique show at the Microsoft Theater in Los Angeles. Concert-goers will enjoy interactive photo experiences as Prince Royce lights up the stage with the visual artwork from the restaurant pop-up installations for fans to experience a truly unique mashup of Latino culture.
Fans nationwide who are unable to attend the concert in person can enjoy a free virtual music experience featuring a medley of Prince Royce's hits combined with Liliana's and RAH's captivating visual storytelling. The virtual concert will go live on Oct. 25 at 7:00 p.m. EST via Prince Royce's YouTube channel.
"Ritmo y Color is a beautiful celebration of Hispanic culture that we're honored to bring to fans and restaurant guests," said Elizabeth Campbell, Senior Director of Cultural Engagement, McDonald's USA. "Music and art are incredibly important vehicles of cultural expression and McDonald's is proud to offer initiatives like Ritmo y Color that fuel Latino pride."
Since its launch in 2021, Ritmo y Color has elevated the voices and stories of Latinidad through pop-up art installations in communities with deep Latin roots and free music moments for all to enjoy. Ritmo y Color is part of McDonald's ongoing aspiration to celebrate the diverse communities in which it operates, including the Hispanic community, through impactful initiatives that fuel Latino pride and representation.
Visit www.ritmoycolormcd.com to register for the free virtual music experience and to get more details about the exciting artist collaborations. Tickets to Prince Royce's "Classic Tour" are available at www.princeroyce.com. 
ABOUT MCDONALD'S
McDonald's USA, LLC, serves a variety of menu options made with quality ingredients to millions of customers every day. Ninety-five percent of McDonald's approximately 13,500 U.S. restaurants are owned and operated by independent business owners. For more information, visit www.mcdonalds.com, or follow us on Twitter @McDonalds and Facebook at www.facebook.com/mcdonalds.
ABOUT PRINCE ROYCE
In the past 11 years, multi-platinum award-winning, singer/songwriter Prince Royce has become a bona fide Latin superstar and bachata music idol, scoring 22 #1 radio hits, 24 Billboard Latin Music Awards, 20 Premio lo Nuestro Awards, 19 Premios Juventud Awards, 9 Latin AMAs, and 14 Latin GRAMMY nominations.
Royce has a massive fan base with more than 79 million followers on social media and has sold out many of the most prestigious venues in Latin America and the United States.
Throughout his career, the bachata artist has collaborated with Shakira, Chris Brown, Jennifer Lopez, Selena Gomez, Snoop Dogg, Pitbull, Thalia, Maná, Daddy Yankee, Becky G, Anitta, Ludacris, J Balvin, Bad Bunny, Farruko and Maluma, among others.
According to Billboard's Top Latin Artists of the Decade chart, Royce was the second most successful Latin artist of the last decade (2010-2020). He set a new record with twenty-nine weeks at #1 on the Billboard Tropical Airplay chart with smash hit "Carita De Inocente" earning him an official Guinness World Records certification; and has also been #1 on Billboard's Year-End Tropical Airplay Artists chart for two consecutive years (2020 and 2021) and his single "Carita De Inocente" was 2020's #1 Tropical Song according to Billboard's Tropical Airplay Songs chart.
Royce's self-titled debut album is 10X Diamond and the artist has seven hit songs that have been certified Diamond by the RIAA (Recording Industry Association of America): "Corazón Sin Cara" (26x Diamond), "Darte Un Beso" (21x Diamond), "Sensualidad" (19x Diamond), "Deja Vu" (15x Diamond), "El Clavo" (12x Diamond), "Bubalu" (11x Diamond), and "El Amor Que Perdimos" (10x Diamond).