What Makes a Good First Job? Survey Identifies Three Soft Skills that Help Drive Long-Term Success
Learning skills like responsibility, teamwork and responsiveness results in 50% greater job satisfaction later in life
Amidst the current labor shortage, employers are getting creative and offering a variety of incentives to attract talent, from signing bonuses to free smart phones, gift cards and more. These perks, along with competitive pay and benefits, can help a job stand out from the competition. But a new survey suggests employers should also focus on teaching their people critical soft skills that – especially when paired with education – can help drive financial stability and job satisfaction later in life.
At McDonald's, we've seen first hand how skills training creates opportunity for our people – whether they're building a career with us, saving up for college or a major purchase, or just with us for the summer. But we wanted to better understand and measure the positive impact it can have, especially as we double down on programs to support restaurant employees this year. So, we teamed up with the American Association of Community Colleges (AACC) to conduct a Workforce Survey that asked Americans what's most important to them in a first job, how their careers evolved over time and the value of continued education. Here's what we learned.
A springboard to a successful future
We surveyed nearly 2,000 employees across all walks of life and multiple industries, from food service and retail to manufacturing, education and healthcare. Overall, survey respondents gave their first job good marks: 77% said they were satisfied with their experience. They also said there are several soft skills it's important to learn at a first job, with three categories rising to the top: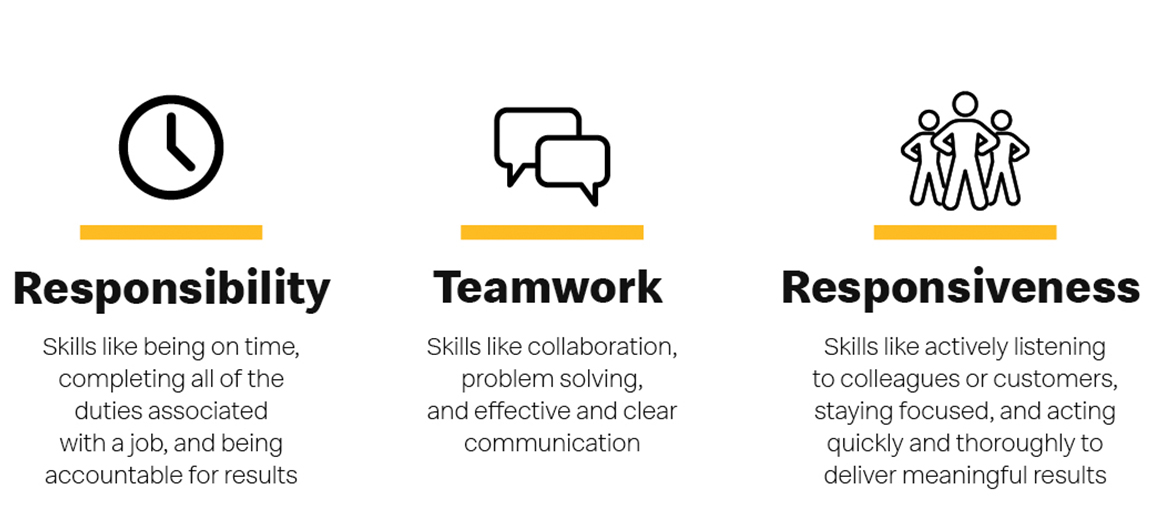 The survey found that people who learned at least one skill per category at their first job are 19% more likely to have a full-time job currently, 24% more likely to have health insurance, and 50% more likely to report a feeling of job satisfaction.
Understanding the long-term value of soft skills – and providing restaurant employees the opportunity to learn them – is part of what makes McDonald's a great place to work. We were happy to learn that 88% of survey respondents whose first job was at McDonald's said they learned how to work as part of a team, compared to 74% of Americans overall. 57% said they were taught how to provide customer service very well, compared to less than half of Americans overall.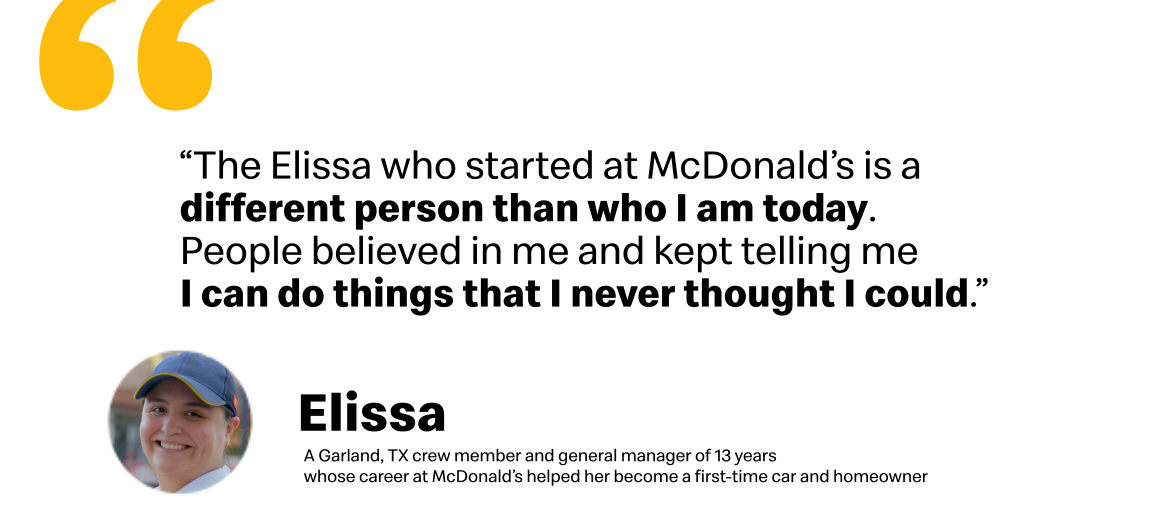 These skills are paying off. A first job at McDonald's (compared to our competitors) also led to respondents being over 40% more likely to have a feeling of financial security, 50% more likely to have a job with benefits including health insurance, and over 70% more likely to have a feeling of job satisfaction when they took the survey.
"People are the heart of our business and the face of McDonald's in our local communities, and we will continue to invest in them," said Tiffanie Boyd, Chief People Officer at McDonald's USA. "We're committed to providing the resources and training that will set them up for lifelong success, whether they build a career at McDonald's or find an opportunity to thrive elsewhere."
Education can accelerate success
People who learned at least one skill per category are also more likely to pursue further education, which improves career paths at an even greater rate. With a good first job and an associate degree, survey respondents were twice as likely to be working in a job that creates financial security and more than twice as likely to report a feeling of life satisfaction.
McDonald's is serving up brighter futures through education initiatives like Archways to Opportunity® – a program the AACC advised us on – which helps restaurant employees earn a high school diploma, work toward a college degree, take English as a second language courses and more.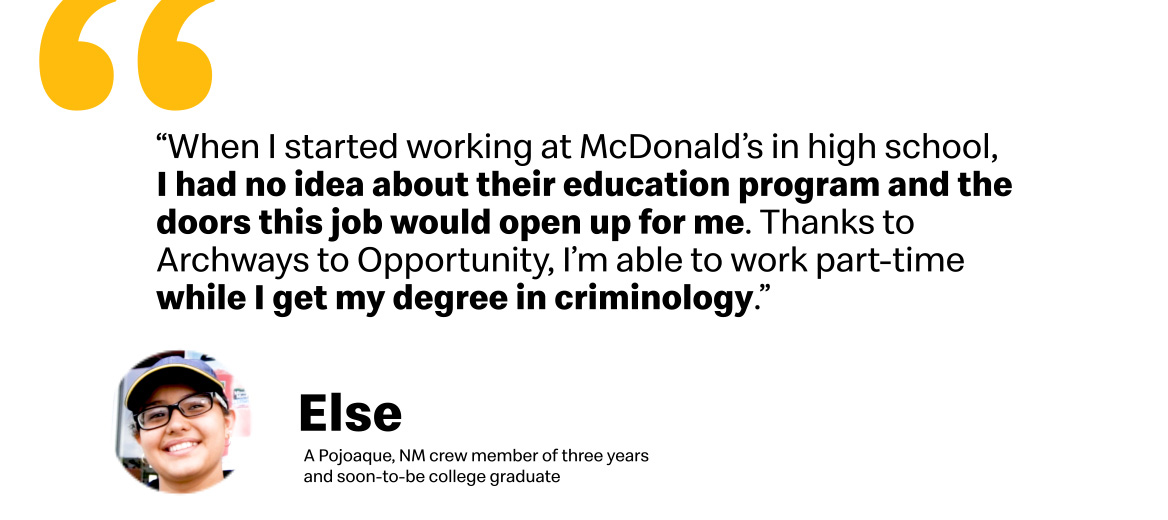 "We're proud to partner with McDonald's to shine a light on the lifelong opportunities that skills training and education can unlock for American workers. When young people have access to programs like Archways to Opportunity and the education community colleges provide for millions of first-generation college students, there is no limit to what they can achieve," said Dr. Walter Bumphus, President and CEO of the AACC.
It starts with pay and benefits
In addition to training programs and education, we know pay and benefits are critical in supporting employees in the near-term. That's why McDonald's recently announced our plans to raise hourly wages for crew members and managers at company-owned restaurants. Many franchisees are doing the same, in addition to exploring expanded benefits like paid time off and backup child and elderly care.
"McDonald's franchisees are prioritizing our people, offering pay increases and other incentives to attract and retain top talent," said David Costa, a McDonald's franchisee and People Team Lead for the National Franchise Leadership Alliance. "We'll continue listening to our crew members and managers – and using insights from partners like the AACC – as we think about new programs and benefits that will have the greatest impact in the local communities we serve."
By offering competitive benefits to support employees in the near-term, while also teaching the skills that will prepare them for successful careers over the long-term, McDonald's will continue to empower our people and the communities we serve. For more information on starting a future at McDonald's, visit the restaurant jobs page.
About the Workforce Survey
The online survey includes responses from 1,974 Americans between the ages of 18 and 49 years reflecting a representative sample of the U.S. population, including 439 former and current McDonald's restaurant employees. The survey was conducted between April 20, 2021 and May 9, 2021 by Bully Pulpit Interactive (BPI) using Dynata's survey platform and panel. The margin of error is +/- 4.68%